Hello super friends, Pasta Fagioli here. After experiencing Mechagon Hardmode myself with Tiraffe, Corig, Jibbles, and Demonestra, I decided to make my own guide to give tips and tricks in case other people want to do Mechagon Hardmode. The guide will cover a lot of ground to help you perform this task; composition positives and negatives, buffs you can get around the island, and certain boss mechanics that cause problems in Hardmode.
PLEASE NOTE: A majority of the bosses in this run are a HUGE dps check, whether it be the first 3 or King Mechagon. The more dps you have, encounters will be much easier. I'd recommend a minimum of 430+ item level for the dungeon, depending on your composition and what utility each class you bring can do.
Hardmode Rewards
Mechagon Hardmode gives 3 rewards in total:
An achievement "Keep DPS'ing and Nobody Explodes" to all members of the party.
One member gets a 430 azerite helm.
One member gets the "Aerial Unit R-21/X."
If nobody dies at all during a single lockout of Mechagon Hardmode, everyone gets the Hertz Locker achievement which rewards Vision of Perfection Rank 4.
Most groups will probably run this over several weeks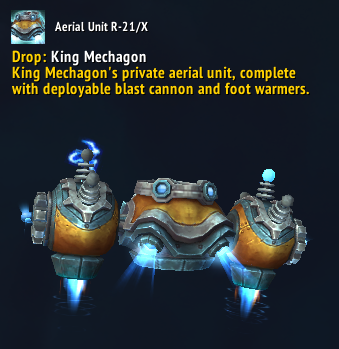 Continue reading →