So you've witnessed the might of our PvP teams, cheered on the tenacity of our raid teams, want the fun of learning mythic dungeons, and the glory of completing achievements?
Say no more – you've come to the right place.
Ministry of Defense is in a permanent state of "casual open recruitment". We will always accept new members to participate in social events (Sunday Funday, normal raids, unrated PvP, and mythic dungeon learning nights) or just cheer on the sidelines as we take on the game's toughest challenges.
Our competitive raid teams are more selective – warm welcomes aside, our raid and pvp teams have more limited space and membership available. It's just the nature of the beast. Each team has its own set of rules that need to be followed in order to participate, and each team has different requirements of its applicants.
Ministry of Defense's Mission
Ministry of Defense's mission is to attract good people to play World of Warcraft. We prefer to attract members with a good gaming and life attitude. We also all work together as a team in the guild; assholery will not be tolerated. The guild is also not into drama or toxic behavior. We are a positive attitude focused guild.
Ministry of Defense's Discord voice channels, Discord text channels, and in-game chat are not a venue to spout out racist, homophobic, sexist, or vile epithets. That rule goes for everyone in this guild. If you have infraction(s) of this policy, you can be server-muted to start and penalties go up from there; to being removed from the guild, if necessary. Please be considerate of others within the guild and definitely refrain from even thinking about using such language in any of the voice communication and text channels. Any form of harassment/unwanted sexual advances or topics is also not allowed. As a general rule, there is no yelling in the guild voice channels EVER.
We are an inclusive community here. No racism or sexism.
We are a safe environment for those with mental health issues.
We are also a LGBTQ friendly community.
This guild has about 1000 members that are active. Please be respectful of each other.
Liquid Women in Warcraft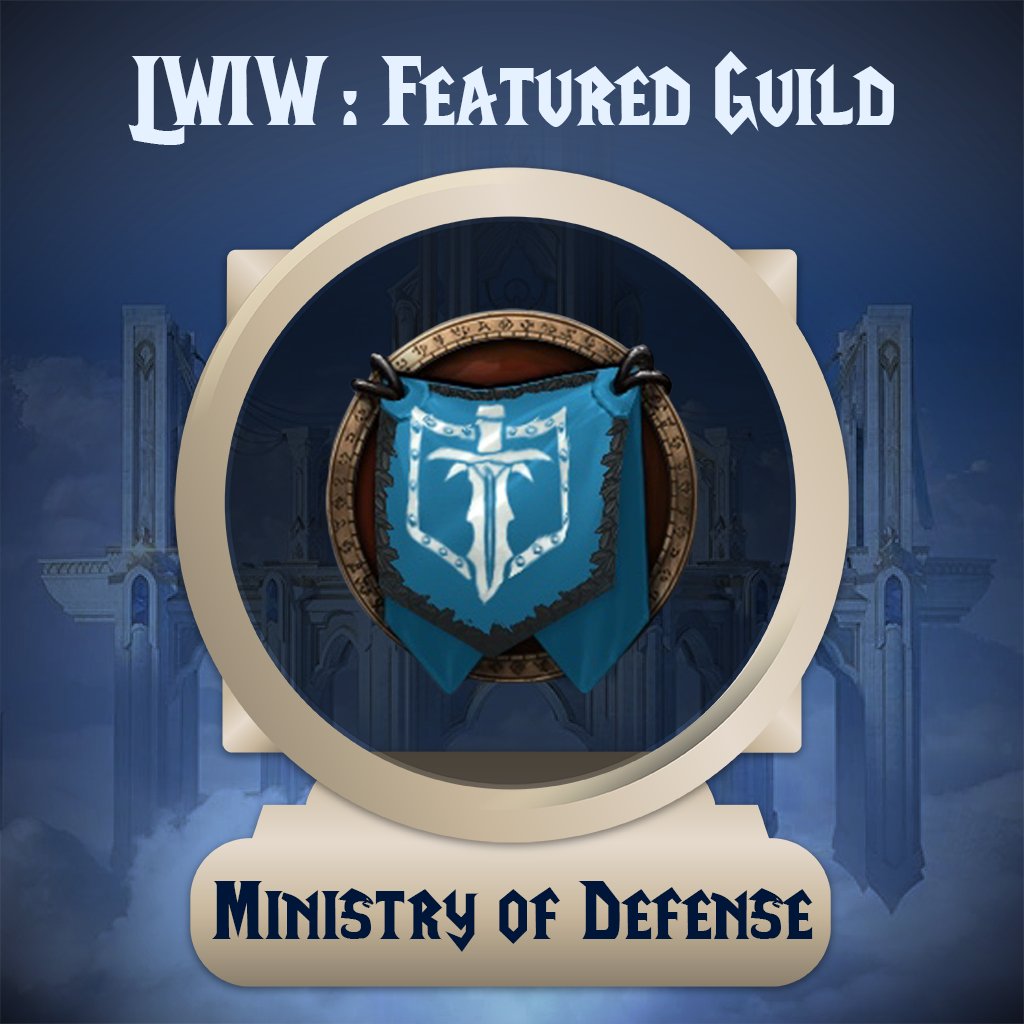 Ministry of Defense was recognized in Fall 2022 as part of the Liquid Women in Warcraft Featured Guilds initiative. As one of only 5 guilds chosen from the first round of applicants, it was a huge honor to be recognized by a pillar in not only the World of Warcraft community, but the Esports world as a whole. LWiW describes us as a guild that "strives to provide a positive atmosphere in mythic progression and to be an example for the World of Warcraft community. They currently have a Weekend Warrior (Heroic) and Mythic raid team which feature two women raidleaders, along with several women and gender minorities in officer positions."
Competitive MoD at-a-glance
Mythic Raid
Founded 2019
Notable progression:
11/12 Nyalotha, over 50% of every raid cleared on Mythic
Warcraftlogs (Thursday & Friday)
Heroic Raid
Founded 2018
Notable progression:
AOTC every tier since Antorus, the Burning Throne in Legion.
Rated Battlegrounds
Founded 2018
Notable accomplishments:
Everyone rated 1500+ in RBGs during the season
Competitive Recruitment Openings
Mythic Raid
Heroic Raid
Rated Battlegrounds
Competitive Recruitment Applications
Applying to a Raid Team
Please have the following information available:
Which team you're applying for (Heroic or Mythic)
Class & Spec or preferred role
What you're looking for in a raid group (progression, demeanor, expectations, etc)
Prior raid experience
Relevant links – raider.io, warcraft logs, armory, etc
Contact information – Discord preferred
A little about yourself!
Apply via Raider.io
Apply via Guilds of WoW
Apply via Discord (Preferred. Urostek – either team; Quetzie – Mythic team; Huge / Sparkles – AOTC team)
Applying to the PvP Team
Please have the following information available:
Class & Spec or preferred role
What you're looking for in a PvP group (rating, demeanor, expectations, etc)
Prior PvP experience – rating, arenas VS RBGs, etc
Relevant links – arenamaster, check-pvp, armory, etc
Contact information – Discord preferred
A little about yourself!
Apply via Discord (Message Frostlitch, Azziria, or Phil)