Member Content
Pictures, Screenshots, and more submitted by members for everybody to enjoy!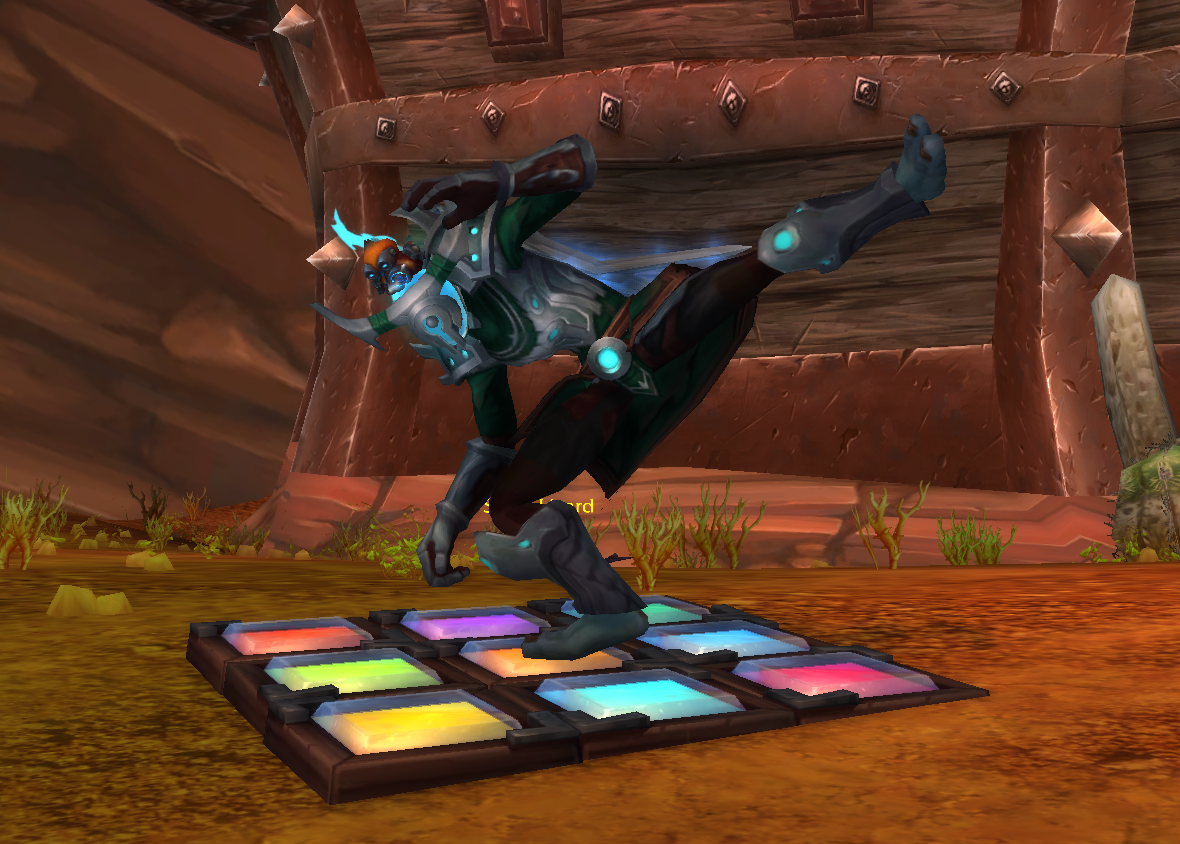 Foko provides expert commentary and visual guides for defeating the wretched Agatha!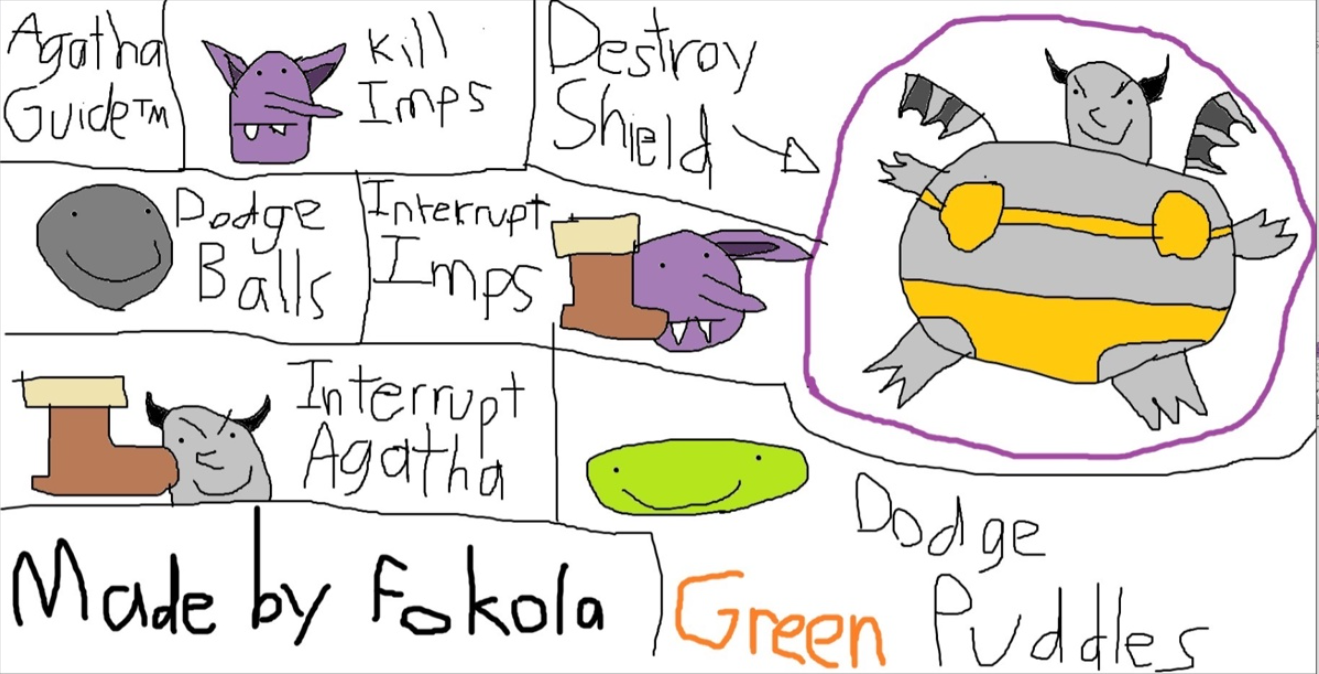 Slytherkiss made it to 'Hero of the Horde' in ranked battlegrounds last season. He ended up in the top 0.5% of all ranked players. Congratulations!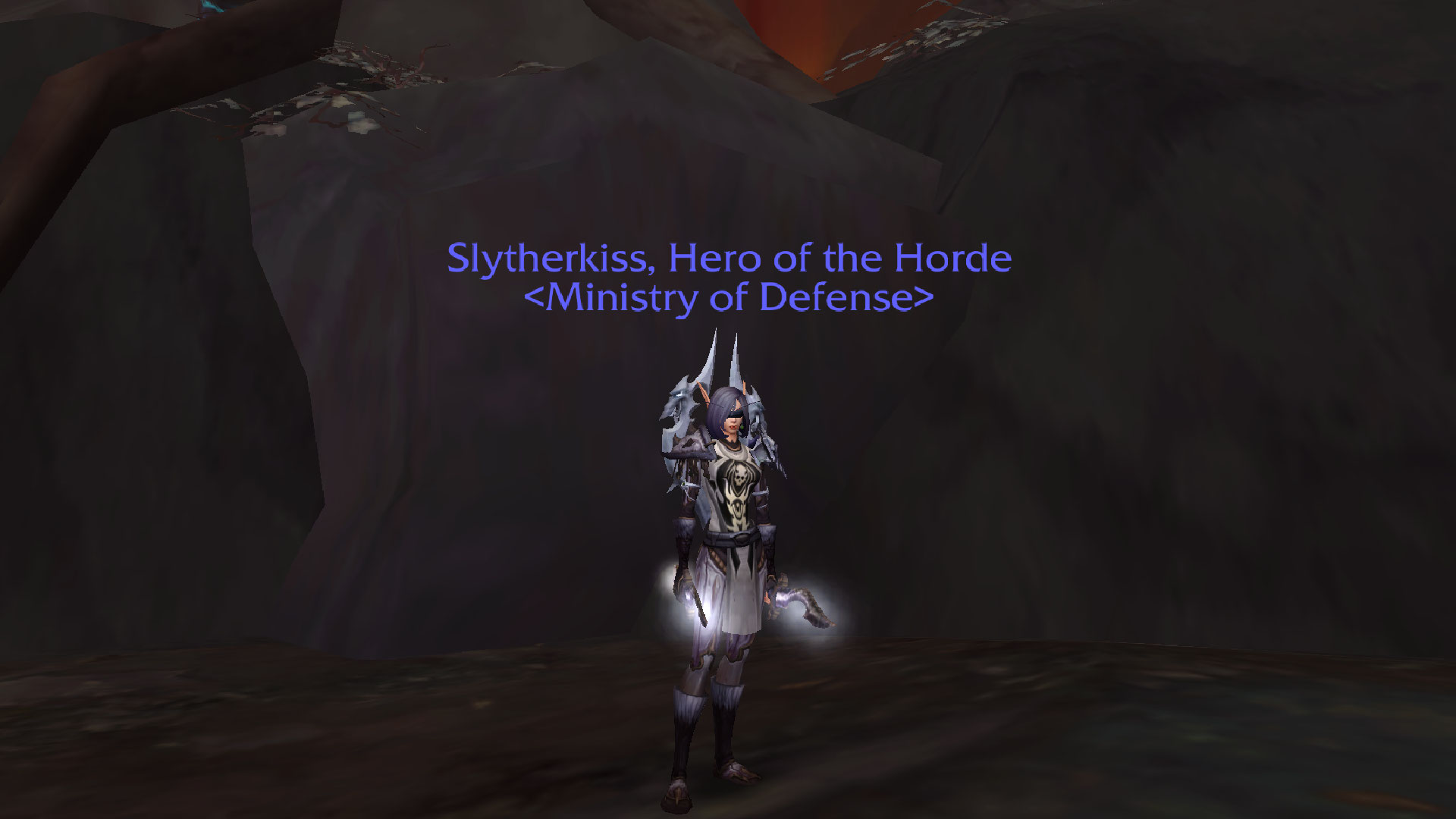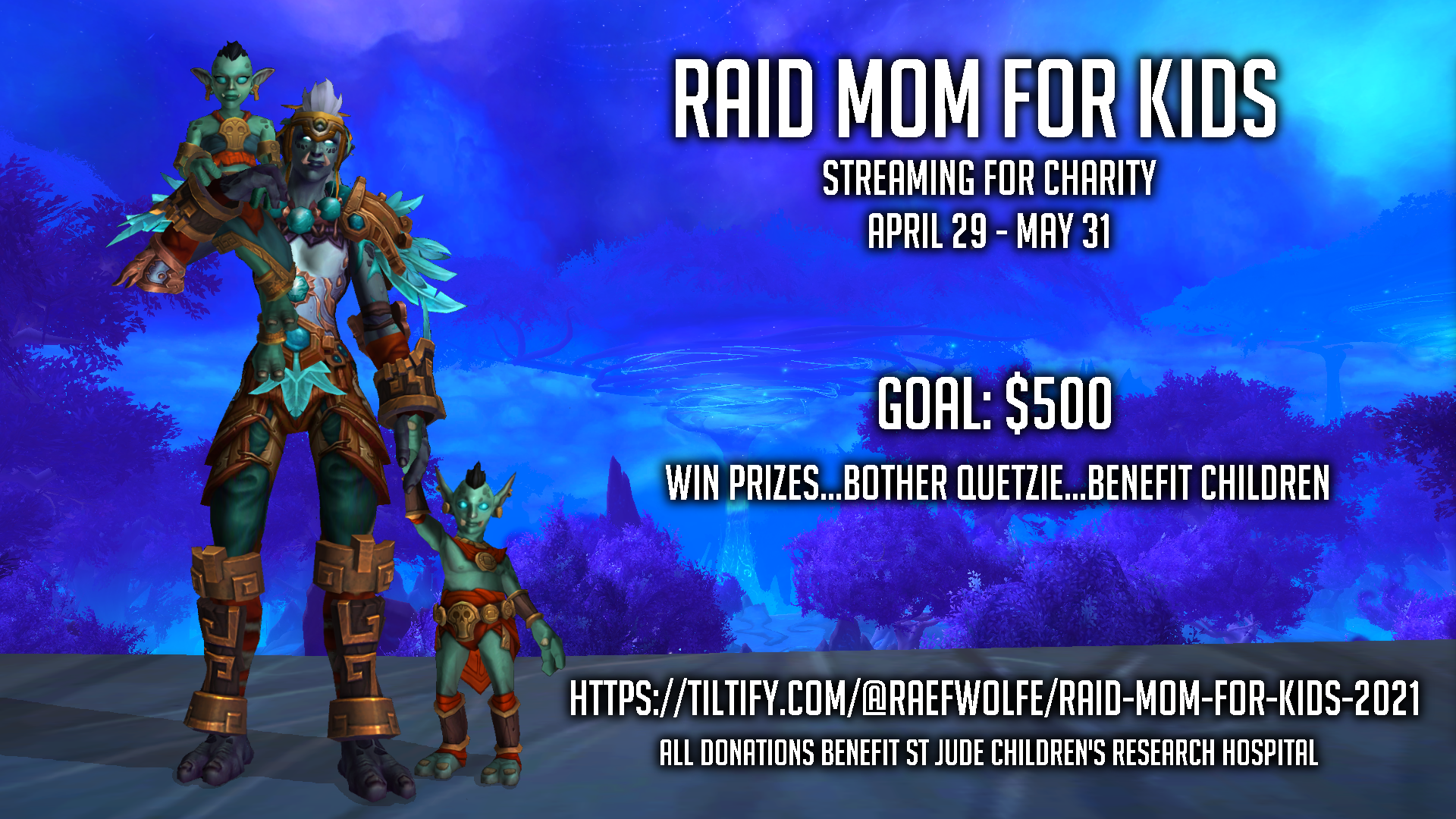 It's that time of year!
For the last several years, I (Quetzie) have been doing charity streams to benefit various causes. I started in 2019 with St. Jude Children's Research Hospital, later raised money for a MoD family in need that fall, and last year donated $500 to various COVID-19 PPE causes. This year I return again and am looking to raise $500 to donate St. Jude Children's Research Hospital with their yearly PLAY LIVE campaign.
To up the ante for my fundraising goal, I am going to be doing a number of incentives to encourage donations. Some of these donations benefit you, while some of these donations just harass me. You'll have to decide which options suit you best.

Submission time has run out, and voting is open! Voting will remain open until November 4th at 1pm PST / 4pm EST. We will announce the winners Thursday the 5th in Discord, in game, and other announcement channels we have.
You may vote once over the course of the voting period per category, regardless of whether or not you partook in it. You may cast 3 votes per category.
---
Prizes:
BEST IN SHOW and THE UROSTEK will have in-store mount or gold prizes.
BFA AFTERPARTY and ZONE THROWBACK will have in-store pet or gold prizes
SCOURGE and ARGENT CRUSADE will have gold prizes
Skip to the 'read more' or scroll down to see submissions!
I want to thank every member that participated in the summer themed tmog contest! This was such a rough month to judge. For real, we had to bring in an outside judge to break a three way tie. The outfits were fabulous and so much fun!
1st place summer tmog and winner of 10k gold: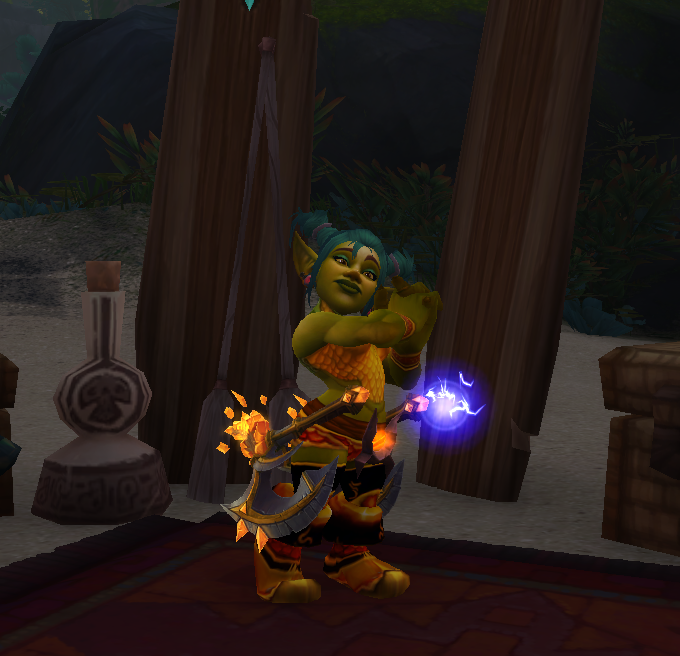 "This outfit is simply adorable. It reminds me of my daughter wearing her first two piece to the swimming pool. I might have gone with a different pair of shoes." – Loki
2nd place summer tmog with their choice of 10 flasks and 20 battle pots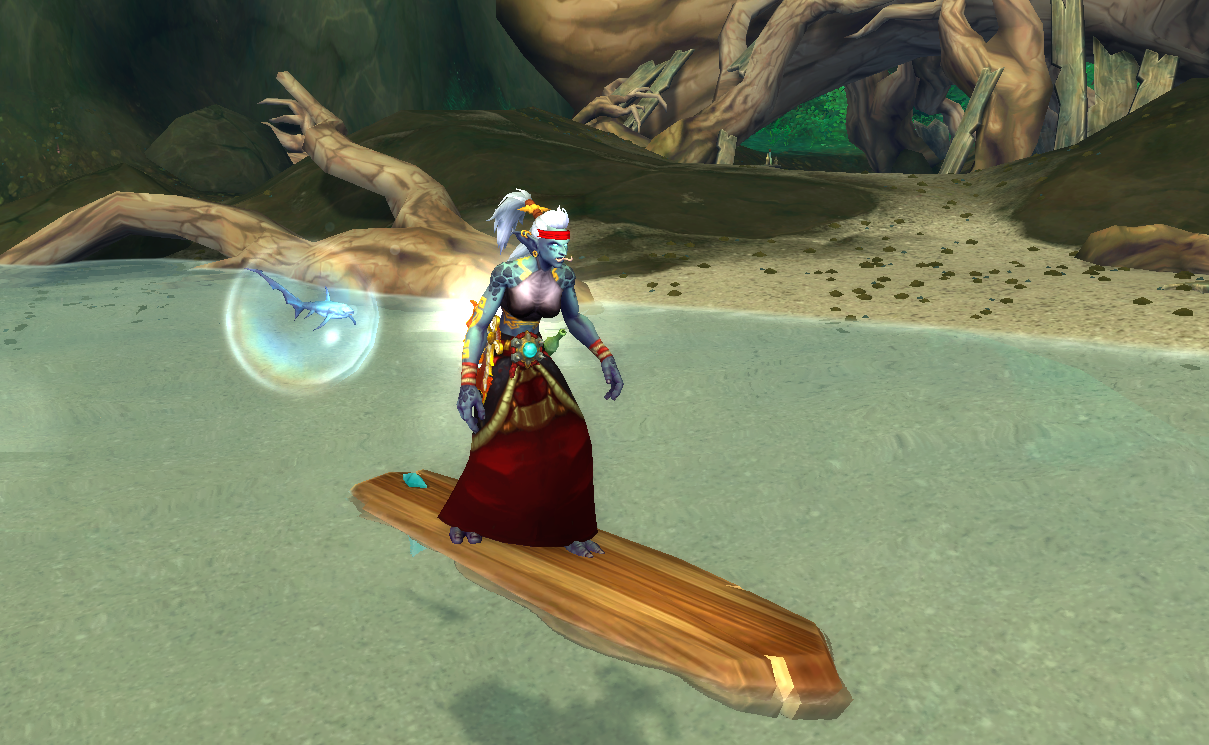 "From the bottle to the shark to the board- love it! -Gary
First place Uro mog and winner of 5k gold is: Tiraffe
Thanks to our judges: lokisapocalypse , encyclopedia Hosstannica , and to our tie breaker Ryan (Zextol/Ryzin/Ryblight)
I'll see you next month for another tmog contest!
– Gary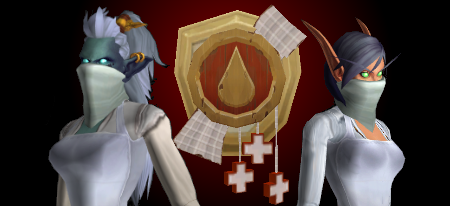 Hey everyone!
Regulars around here know that I've done a few good / charitable cause donation drives in the last year. My plan was not to do another one until the St. Jude fundraiser again, but something incredibly more pressing and personal is happening.
We are all aware of the effect that COVID-19 is having on the world right now. Some are affected more than others. One of our members is a nurse in New York, not far from where I live. As you may have heard, NY is one of the states most affected by COVID-19. Her facility, like so many others, is hurting for adequate PPE (personal protective equipment) – she had to buy her own N95 mask, she has no face shields, and they have just reached the point of rationing surgical masks. At the end of March, her facility had its first confirmed case of a staff member infected with COVID-19, and it's only going to get worse.
During this time, I will be splitting donations on my stream between two causes: sending her facility face shields from a group called RIST, and sending washable, reusable surgical masks with filter inserts made by a fellow MoD member.
Your donations, and these supplies, will help ensure not only the safety of one of our own, but those she works with and those she treats. Any funds not used to benefit her facility directly will continue to be donated to RIST; they are sending face shields for free to hospitals across several states in the northeast. If at any point she makes me aware of a particular need for specific PPE at her facility, I will redirect funds to a different group or charity who can help instead (I will be transparent about it if this happens).
Quetzie's Stream (host)
RIST 3D Printing (medical face shields)
Junky Jewelry (washable surgical masks with filter inserts)
Donate at my streamlabs tip jar (I will be keeping 0.00 funds, and am happy to prove it via receipts to anyone who asks.)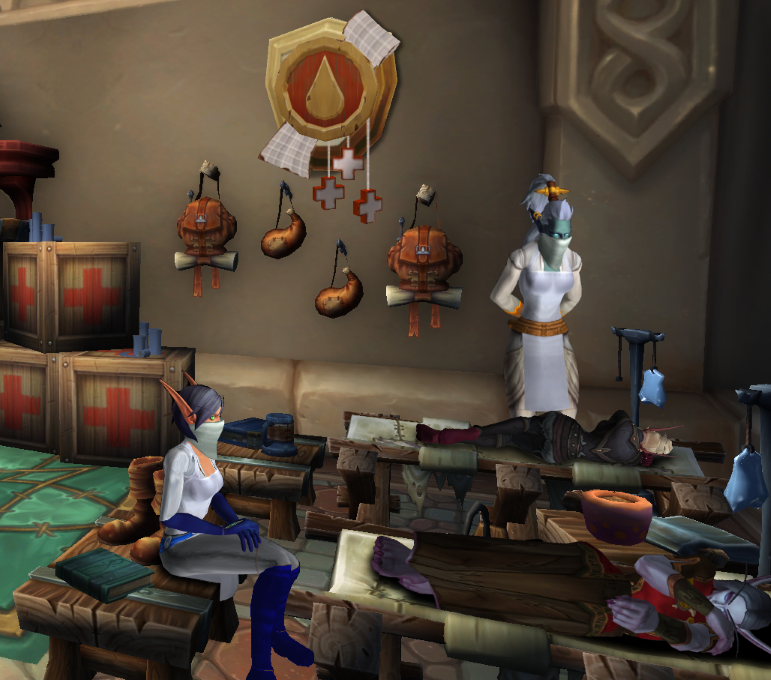 Lokisapocalypse (Lokiwise, Thanos, Lightchylde, and many others) is a very active member of the Ministry of Defense Discord. He's also a crackshot programmer who created an amazing tool for tracking World of Warcraft reputations – the World of Warcraft Reputation Calculator.
The World of Warcraft Reputation Calculator was created as a way to easily track earning reputation in World of Warcraft. As someone who's played since Vanilla, I often found myself asking, "How many more daily quests do I need to hit Exalted?", "How many Emissary Caches will it take to get Revered?", "Why should I bother getting Hydraxian Waterlords reputation in Battle for Azeroth?".

With that idea in mind, I created a tool that would display your current reputation score in a more meaningful way. By entering your character's name, server, and realm, you can see a page that shows you how close you are to the next rank for each reputation.

By clicking the To Next Rank, for a given expansion, you can see how to earn reputation for that faction and how many more of that activity you need to do. This will allow you to see exactly how many more Emissary Caches you need to turn in to unlock Zandalari Trolls as a playable race.

I've also created faction pages with more details into the history of each faction. Each faction page also contains all of the repeatable ways you can gain reputation for that faction as well as what rewards you can earn at each level.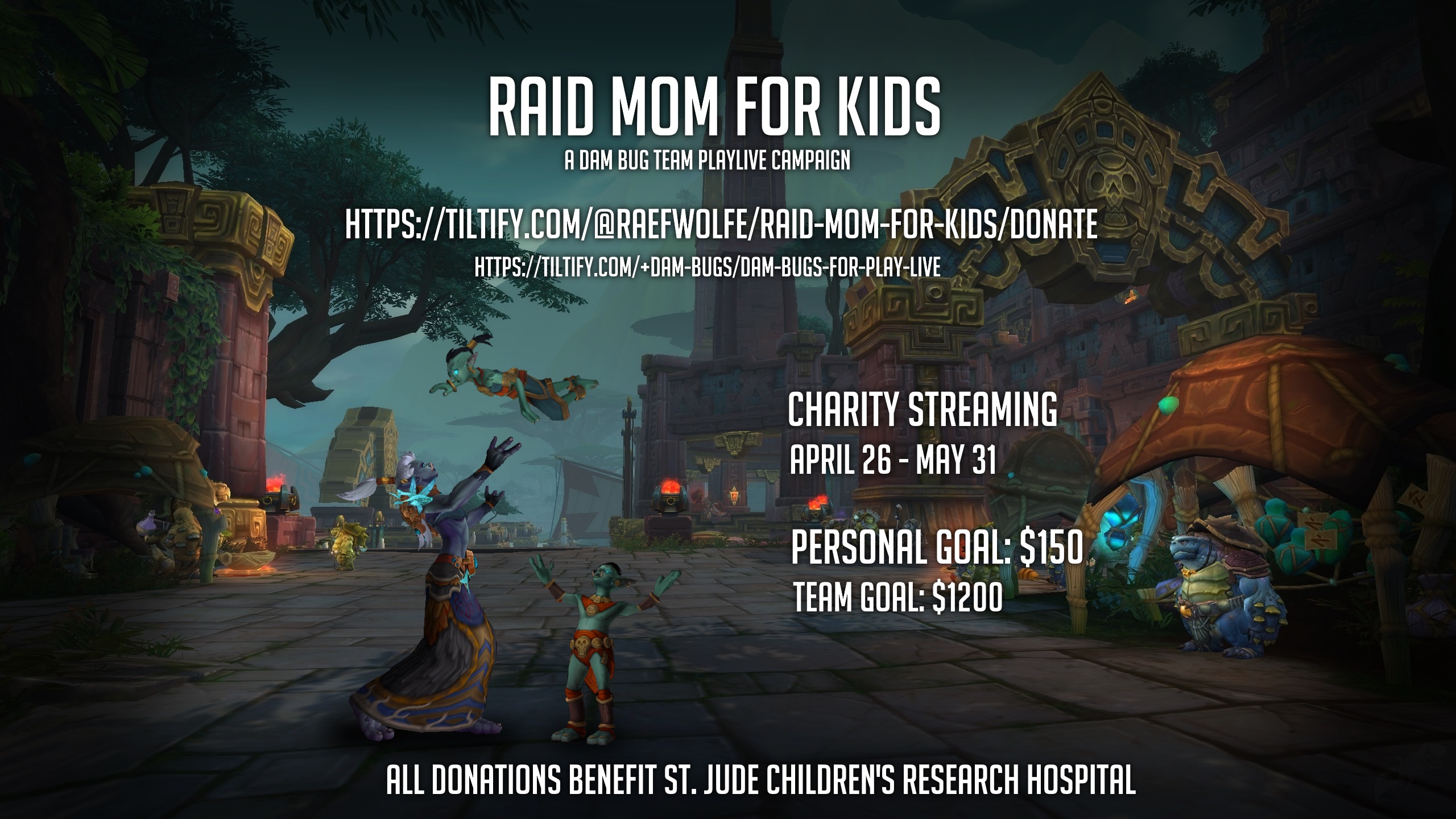 I previously mentioned this in Discord, but now that the official donation season is upon us, I wanted to give everyone a more thorough explanation. Throughout May I will be doing a charity stream for St. Jude PLAY LIVE, during which all funds donated go directly to St. Jude Children's Research Hospital. You can scroll down to the bottom of the post to see what they're about.
Quetzie's Stream & Goals
Since I never streamed outside of raids for the guild and I never did this before, I gave myself a modest goal of $150. In order to reach this goal I'll be streaming my alt-levelling, Mythic+ runs, Island Expeditions, etc more regularly as well.
There are a few rewards and incentives to donors, most of which center around raids and the guild.
$10 Donation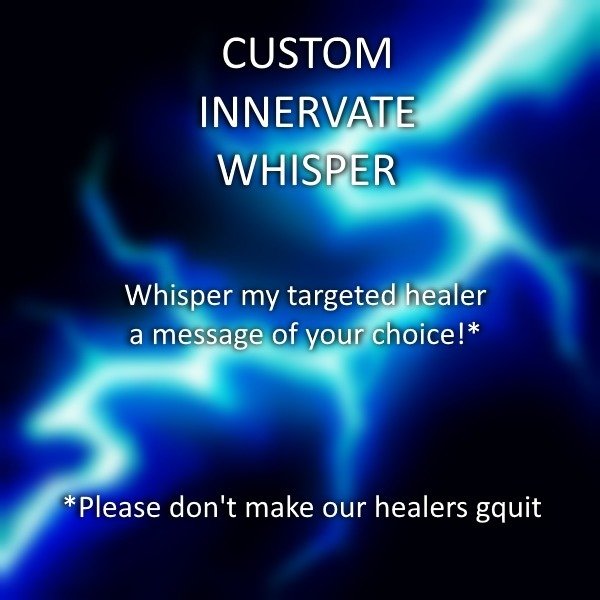 Anyone who donates $10 or more can sign up for a custom innervate message. These messages will be used during Saturday and Monday raids. You can use song lyrics, flirts, dad jokes, or even use as advertising space. Since I block chat on my screen, there will also be a /say message over my head so that those watching at home can see your message. I will also screencap the message and post it in Discord, in case it gets used when you're not around. If I receive any interesting responses, I'll be sure to add that 🙂 Remember, messages cannot be explicit! This is for children! If you donate over $10, send me a message on Discord with the message you'd like.
Top Donor Reward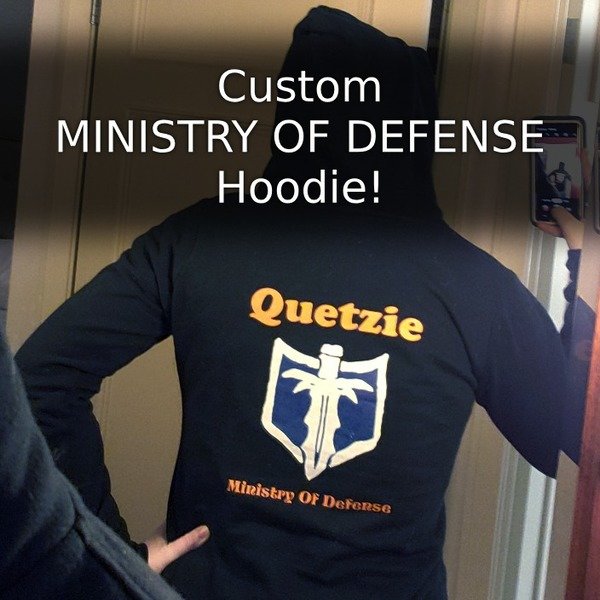 The top donor* will receive a FREE custom Ministry of Defense hoodie with their character name of choice on it! The MoD logo, character name, and "Ministry of Defense" will appear splashed across the center back and front left breast area of the hoodie. If you win, I'll be in touch to get a shipping address.
* In the event of a tie, both parties get one!
$50 Milestone: Healing Normal Battle of Dazar'alor
When I reach $50, I will consult with the resto goddesses* to set myself up right to heal a normal run of Battle of Dazar'alor. I may or may not heal Jaina depending on how craptastic I do. But I will absolutely give it my best shot!
*Meevs and Shay
$150 Milestone: First Person battle of Dazar'alor
Blame Corignis for this one! If we hit my stream goal of $150, I will play the entirety of Battle of Dazar'alor in first-person. I fully expect to get hit by fire in Opulence and frozen into a block on Jaina. But at least you won't have to see the back of the head of an ugly chicken-lizard, right?
Future Milestones
If we wind up surpassing $150, I'll think of something else fun or interesting to do. (I'm not saying I'll get a MoD tattoo, but I'm not saying I won't either!) Submit your own ideas if we reach that point – I'd love to make this fun for you guys.
DAM BUG Team & Goals
My stream is part of the DAM BUG team, which has a goal of $1200. We're a handful of small streamers looking to make a big impact. There's only a few of us signed up right now, with more expected to sign up throughout the duration of May. Last year, the team leads raised $1200, so that's our goal as a team this year. Any one can join the team and help us reach – and surpass – that goal!
Are you interested in joining us? Boter, one of the team leads, set up a YouTube video tutorial on how to join. There is a link in the video description to art / streaming assets and a document walking you through the process if the video doesn't help. You can also ask me for a hand.
About St. Jude Children's Research Hospital
Treatments developed at

St. Jude

 have helped push the overall survival rate for childhood cancer from 20% when the hospital opened in 1962 to more than 80% today
Families never receive a bill from 

St. Jude

 for treatment, travel, housing or food
82 cents of every dollar received from donations, research grants, insurance recoveries and investment returns goes to support the current and future needs of 

St. Jude

St. Jude

treats about 8,500 patients each year. Most patients stay in one of four housing facilities specifically designed and managed for families of children with cancer and other diseases. Construction of a fourth housing facility began in 2018.
St. Jude has an onsite school allows patients to keep up with their school program back home.
More than 75% of St Jude's operating cost come from donors
More information about St. Jude
About St. Jude PLAY LIVE
PLAY LIVE has raised over $11,000,000 for St. Jude over several years.
Basic rules: Anyone over 13 can stream; games streamed must be rated "TEEN" or lower by the ESRB; streamers may not use language or visuals that are bigoted, sexually explicit, or profane. (I'm not sure they're really pressuring about the profanity thing). Streamers cannot be drunk or partake in drug-related activities on stream (which is also within Twitch rules anyway). ALL money donated goes directly to St. Jude Children's Research Hospital.
Streamers who raise a certain amount of funds will receive prizes based on how much they raised; $100 nets you a free PLAY LIVE t-shirt, while $5000 or more gets you a gaming chair!
More information about St. Jude PLAY LIVE
Thanks
Thanks to anyone who shares the link, watches the stream, and who donates (or has already donated!).