Wednesday: Heroic Lower
We decided to kill more Heroic Lower bosses to start the week, in another attempt to get set pieces for Raiders before a hopeful Aggramar clear. We had the typical 3 wipes on Kin'Garoth and a few wipes on dogs…but, this was also the first time that Qwaylas was able to down Dogs with the guild on Heroic, and we're all proud to have him in our ranks.
Saturday: Annihilating Aggramar, Aggravating Argus
We worked harder and figured out some more tweaks necessary on Aggramar. It may be beneficial for tanks to move Aggramar a bit away from certain little adds. Likewise, we may want to let the add in the back "drop" sooner, so that it doesn't get as close to larger adds or to Aggramar and risk having a double explosion.
And we downed him! In only 4 pulls that night, too. Overall, it took us 14 pulls and under 2 hours to take him down. Not too shabby!
We forgot to take a kill pic, so please enjoy this recreation with Uro: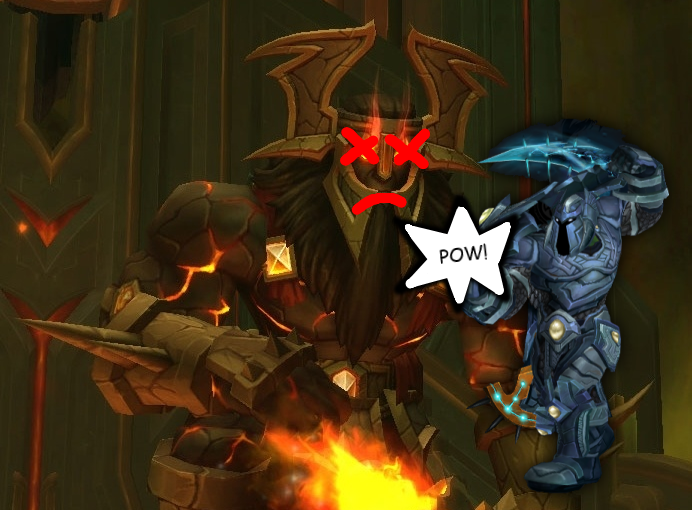 After that, we pounded on Argus for a while. Our first pull was pretty good on Phase 1. After that, subsequent Phase 1 pulls have been rough. Raid Leader Thoughts: People need to keep aware of the effects of Blight and Cone at the same time. Similarly, people with Blight need to stay spread out and not be adjacent to one-another.
Monday: Heroic Argus Only
On account of the upcoming holiday and excitement over a potential kill, we moved Alt Night to July 4, and Heroic to July 2nd.
More messy Phase 1 Blights were the problem for us, but we did manage to get in to Phase 3 on our own. We also pulled in a variety of returning Raid Team members in an attempt to get a kill, welcoming back both Khaanatra and Orektarg for the guild DPS. Eventually, our luck came through, and a pair of 970 tanks queued up. We quickly scrambled to move our tanks into DPS roles, and the tanks added an additional DPS and Healer. We got another pull and then a bad bomb explosion wiped us at 93%. To no-ones surprise, we then downed him for a kill!
Overall, it took us 9 pulls in 1 and a half hours to down Argus.
We have a new banner on the Raiding Team page to commemorate our Heroic Argus Guild Kill.

Congratulations to everybody who helped us achieve this goal. We'll take a commemorative picture at some point for those who have AOTC with their Violet Spellwing mount at the Aerie Peak eagle statue. Stay tuned in Discord for more information on when that will be happening.