This week, both teams headed into heroic for the first time!
Opening Night
Champion of the Light
Black team had a very good first pull on Champion, but still has problems with "add wrangling". Too many people are getting hit by Wave of Light,  and Blinding Faith is a continual problem for some people on both teams (though it's made harder when adds are improperly placed).
Both teams are generally awful at interrupts. It only takes a second to tab to one of the healer minions and interrupt them, but most people aren't doing it.
Both teams had similar, clean kills; only 3 deaths. 2 of them were tanks and the remainder was someone else dying at the end from boss damage.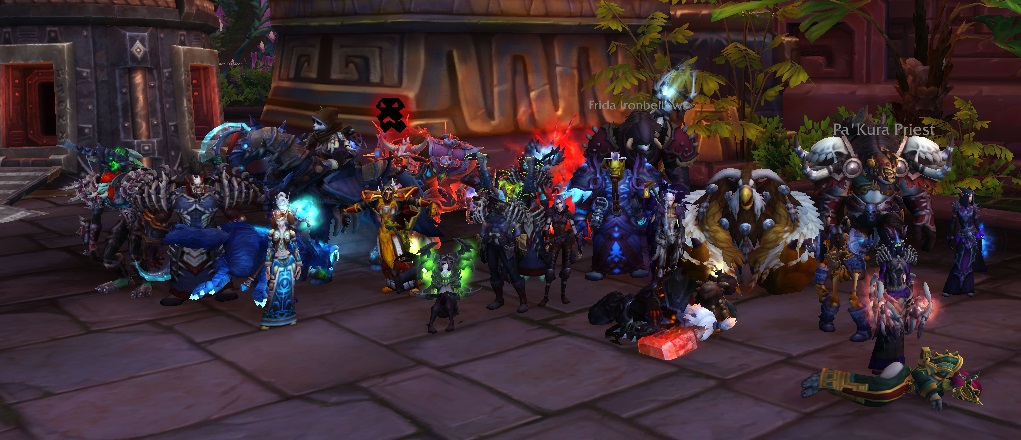 Grong
We had a few discoveries this week – for example, adds dying too close to the boss gave him bonus energy, which made tantrum more deadly. We tried a variety of different styles of stacking for large ranged groups – from 1 group to 2 groups, moving when able. That strategy was quickly abandoned as being too complex.
When the tank gets thrown at a player, it's important to stand still and wait. The tank will be stunned for 1-2 seconds and unable to move, meaning if you abandon them, they'll get feared. It's important to stay with the tank during this phase. As soon as a tank gets picked up, a melee DPS needs to stand on the other tank. When the thrown tank lands, they need to walk back together. A potentially helpful weakaura is located here.
In the end, the boss kill is mostly about team comp. We had 4 healers for fewer people on Black team, but we needed an extra healer on Red to make up for the larger team size. As soon as we added an extra healer to Red, they 1-shot the boss, after having 14 previous wipes. Black only took 4 pulls on him to adjust to the heroic changes.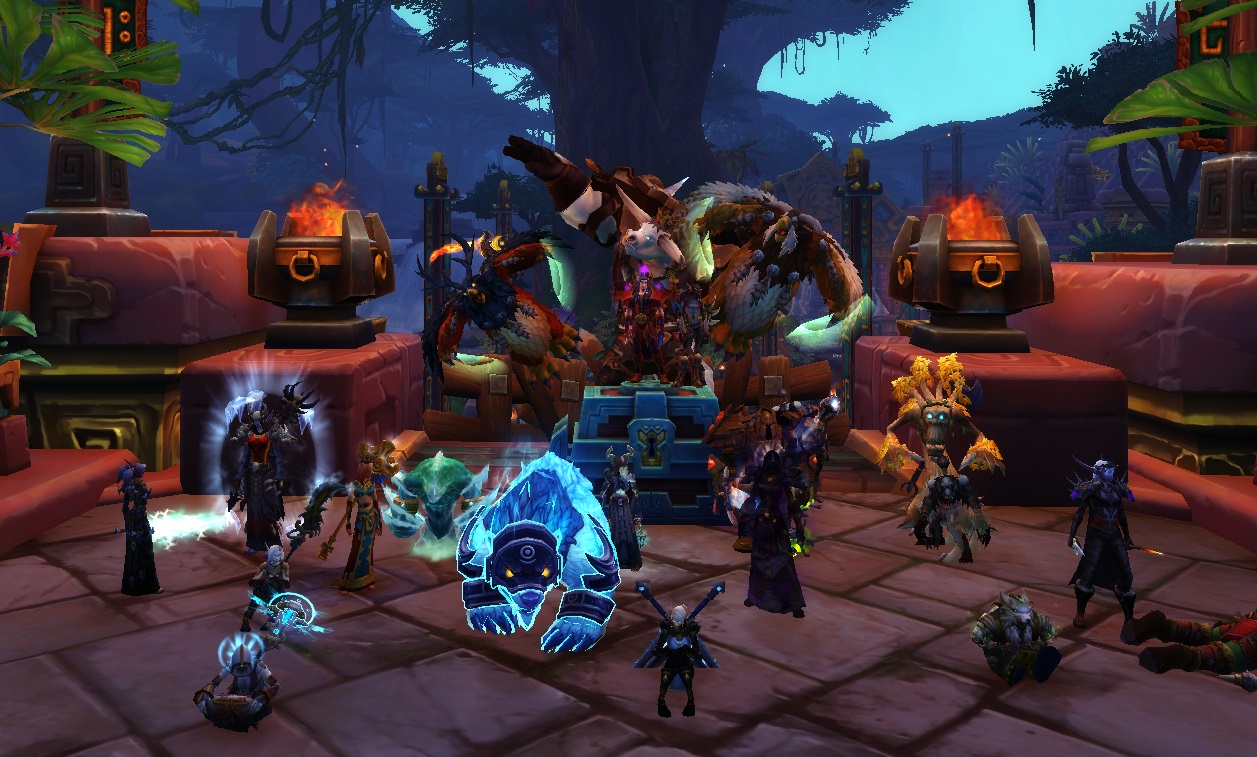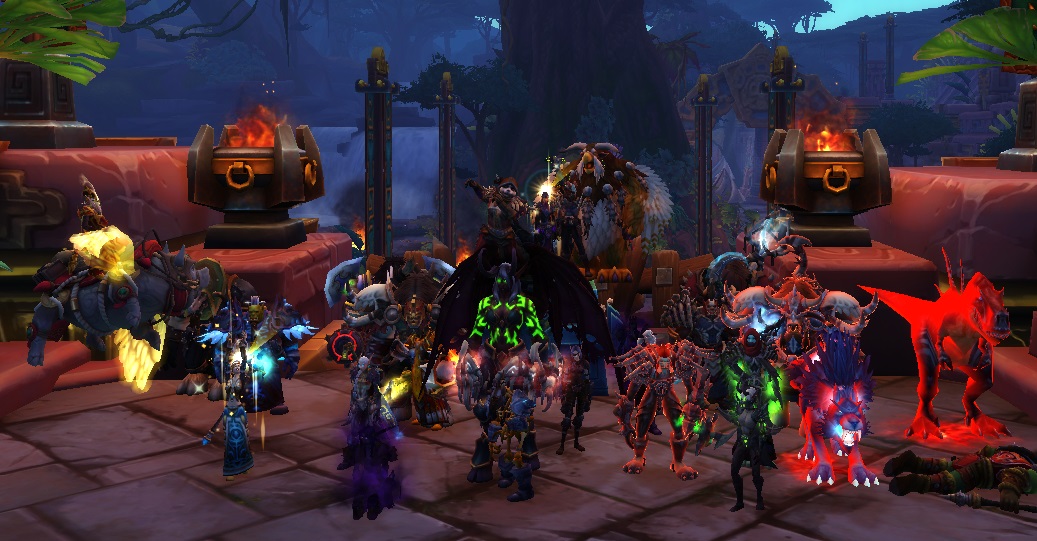 Jadefire Masters
The important thing for this fight seems to be clearing moving away from magma traps and clearing them efficiently. There's a pretty long windup on the cast, so there's not much excuse for being hit by them as they spawn. Certain classes can clear them without incident – rogues, hunters, and paladins can all remove multiple traps at once. Other classes can negate fall damage with blinks, jumps, teleports, slow falls, or even a good priest-yank back to safety.
Healers need to be on top of dispells (we had a few pop off for tons of raid-wide damage) but for the most part, we haven't had issues.
The Xuen tiger add is annoying and we learned to adjust as time went on. During explosive, every DPS would get inside an explosive orb and kill the add while cleaving the orb for maximum efficiency.
The pattern for the monk puzzle will always be Blue, Green, Orange, Green, Blue. This week they've made it easier to see, so if we do miss the DPS push threshold, hopefully it won't be an issue.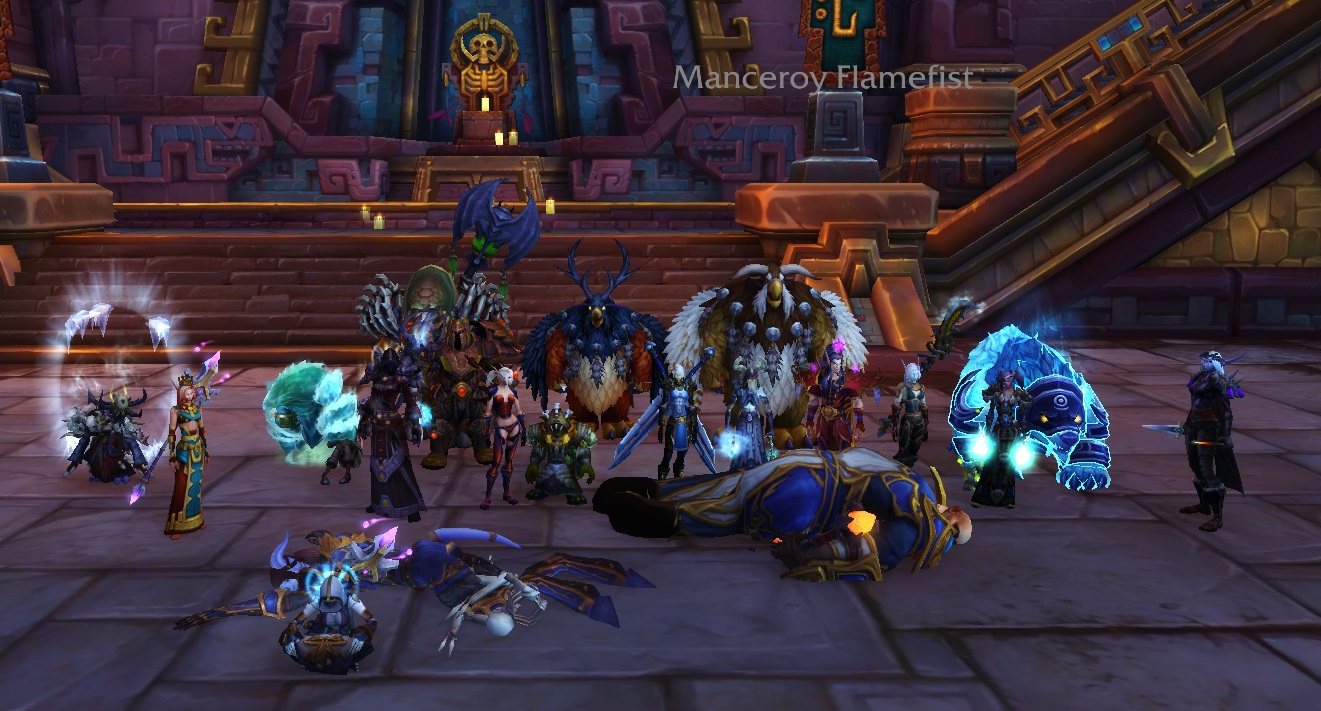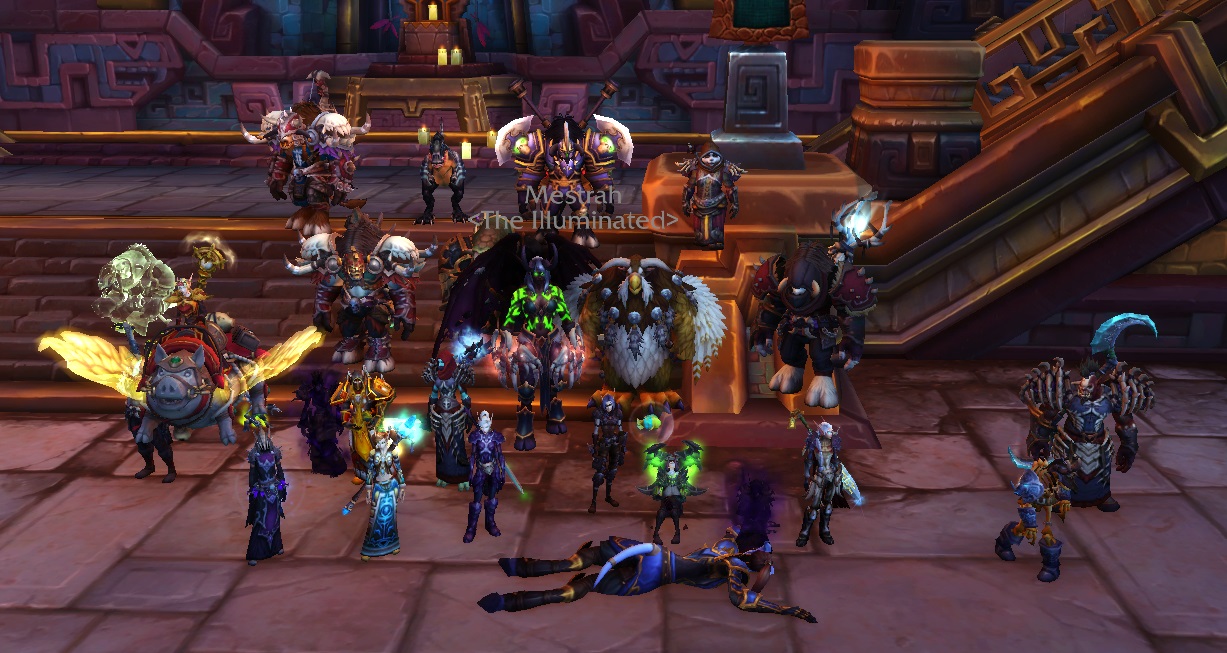 Masters of Mayhem Thursday logs
Freaks and Geeks Saturday logs
Closing Night
Face, meet wall. Repeatedly.
Opulence
Both teams suffered the gauntlet here. There are no new mechanics compared to normal, but both teams still struggled with then regardless, which was perplexing to raid leads.
Right-side add always turns clockwise, and you should always be stacked on his butt unless there's a potential fire-laser mechanic. Even then, the fire-laser mechanic doesn't do a ton of damage. I've said it a number of times and I will say it again: getting fire-laser out of the group is less important than staying alive. There is too much complaining about "fire being under the boss!". That's just going to happen because of the fire-spin mechanic coinciding with lasers.
In the future, we may simply ask those with fire laser to make as small a circle – wherever they are – as possible. The tank can then move the add away from this when it's happening. Or, if it's happening during a fire-laser-spin, move the miniboss after. The real issue with the fire-laser comes from getting more than 2 instances of it. We're losing DPS to 1-shot mechanics when we need them alive to kill the miniboss before we get 3 instances of fire-laser on the ground.
Left-side…I've never been on. However, both groups had issues with people running the static ability out and dropping it out of the group.
This fight is very important to be fast-reacting with mechanics. If you try to finish a cast, chances are you or someone nearby you will die, much like Blockade.
In the future, Warlords are going to be comping down significantly sooner than we have been. People dying to avoidable 1-shots, especially without using any defensives, are not doing anything but adding HP to the boss and minibosses.
Once in the last room, however, the fight is very simple.
Conclave
Black team managed to reach Conclave, and we're in for a trick here. Multiple ranged DPS – especially those with the Incandescent Sliver trinket – spread out from the group around the center of the room. This allowed the new Krag'wa mechanic to aim for only one person and thus only make one person have to move at a time.
It is much more imperative that the DPS and Tanks are properly situation in a Paku wind blast. Otherwise, mechanics like Krag'wa or Kimbul will wipe the raid, as they combo into massive damage.
Raptors do significantly more damage and also gain buffs. It's imperative for mages to spellsteal both these buffs and the haste buff from Paku's aspect.
Masters of Mayhem Friday logs
Freaks and Geeks Monday logs
Mythic Champion
Jibbles through a quick guild group together on Sunday to down Mythic Champion of the Light before LFR started. The boss went down in <10 pulls and much loot was enjoyed. He intends to run it again so hopefully that gives both groups a leg up on goodies for their runs!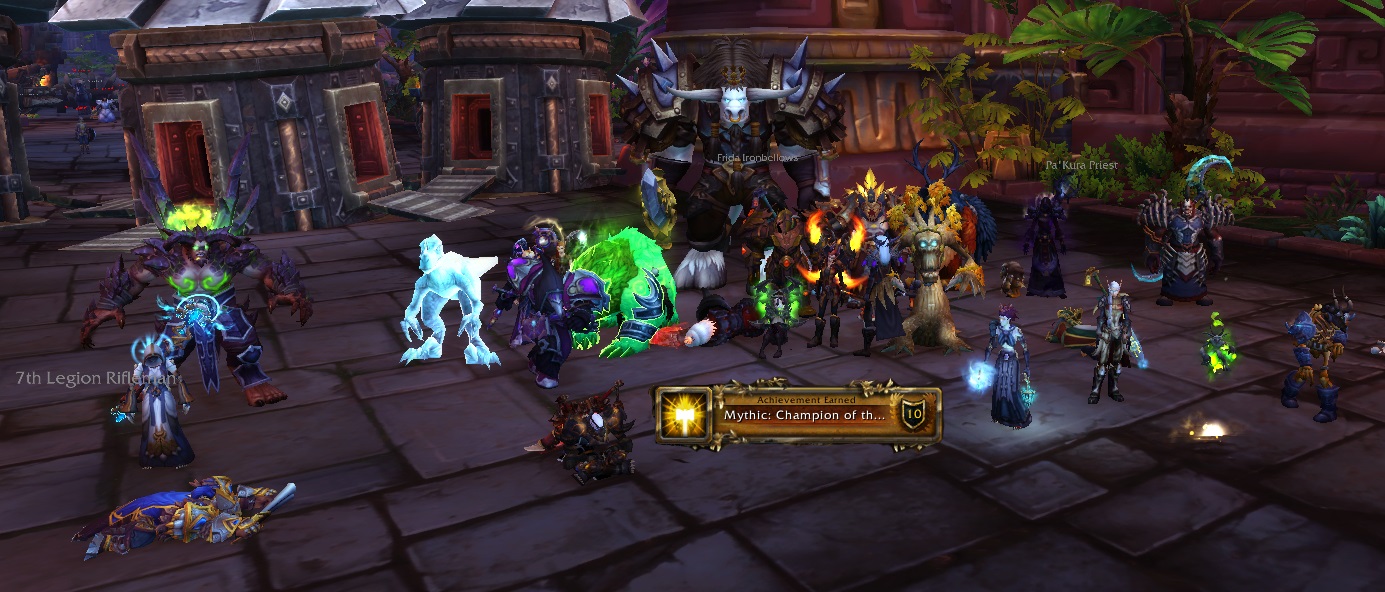 (We also peeked at Grong and had many regrets.)
Thoughts
Warlords are going to trim down groups much earlier than they have been. We've been trying to give people chances to make up for mistakes, but some people do not seem to be showing improvement on certain bosses or mechanics. We'll work with you when we can, but it won't be able to be done mid-raid. If we're able we will reach out and provide assistance – maybe helpful WAs or addons, practice runs on normal, etc.
Please don't whisper warlords graphs and stats during a raid, or if you must, only do so once. We all have the combatlogs, we all have details or recount or skada, and we do pay a lot more attention to those around us than the average raider does. We're aware of what you're showing us. If we're not addressing it, it's either because we can't address it at the time, or we're not sure of the best fix and will need to think about it.