Mythic Night 1
Champions was another one shot loot pinata this week. We're getting cleaner about add kills and dodging hammers.
Grong was problematic and from talking with other guilds, Grong is one of the hardest reclears even after everything else is on farm. Poor RNG on bots (including a bot placement we'd never seen before), as well as a mess of fears making for missed interrupts, made Grong a burden again. Towards the end we adopted a new strategy on interrupts, and both of our orb collectors are getting more comfortable with their roles.
That said, if you are not an orb collector, please do not pick it up, even if things look hairy. We know the timers on them, we know our cooldowns, we know what we're capable of. Multiple times we were planning on waiting for damage and mechanics before fetching an orb, only to find someone else had grabbed it…and then subsequently died with it. Leave us to our job, and we'll leave you to yours.
We finally killed Grong with just enough time to clear trash and get a pull or two on Jadefire. After the issues with Grong we were feeling a bit down. Fortunately, the only DPS who wasn't with us last week – Grim – was a tank main already familiar with the hardest mechanic, which is the multi sided strike. Therefore we didn't have to explain this to him. The rest of the fight – gunning down explosives, killing the adds, navigating the maze – were a cinch. The group stacked wonderfully when Manceroy became a phoenix, and we 1-shot the boss with minimal losses.
Mythic Night 2
Unfortunately for us, Blizzard decided to be screwy and anyone with a Cox ISP had serious connection difficulties. Some of our main roster and some of our subs wound up suffering the whole time, so we wasted between 1 and 1 and a half hours until we could get real progression going.
Left-side fire room has a slight change; we're now tanking the boss in the middle as opposed to near the gate, which makes it easier for people to deposit orbs safely.
We swapped healers on different sides and may continue to tweak healers over time.
Both sides reached the Gem room at various times, though we never had an attempt with both groups reaching the end room. We're quite pleased with how the latter half of the night progressed.
This week we will continue to reclear bosses 1-3. Depending on how the group feels we may save the lockout on Opulence for next week, or we may reclear again.
Saturday: Heroic
I was again not present for the Heroic run, but it looks like things went really well. Conclave was a 2-shot and Mekka had some issues, but otherwise things looked good. We welcomed a couple new people on Saturday, and we look forward to them continuing to raid with us.
Monday: AOTC and Normal
With a blockade lockout available on Heroic, we decided to see if we could get some people AOTC that need it. Blockade had an annoying wipe at 0% HP and then we killed it. Jaina was surprisingly a 1-shot, netting 6 AOTCs, 3 of which were new to the player.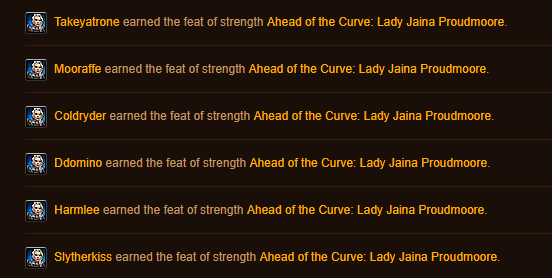 After that, we swapped around and ran through normal. Much like last week, we 1-shot everything there, too. For those of us running on out Mythic tons, it was almost laughable to realize how far we'd come. Corignis decided to /sleep in fire on Grong for 20 seconds and barely took damage; others played similar games with damage taken, or simply ignored mechanics in favor of DPS output.
The combination of 2 heroic bosses and all of normal came in at just under 3 hours. We're making good time on alt nights.
AOTC Achievements
As we continue to perform in Mythic and have raid opportunities for heroic on Saturday, the chances of us getting more AOTC events is very high. If you're interested in AOTC and don't have it, check the Raiding Announcements channel in Discord. You'll see a signup post.
Crucible of Storms
This week will be our first look at the new raid. Saturday will have Normal and Heroic runs. Vanguards get dibs on spots. If we have too many people showing interest, we will either trim or split into 2 groups (to be determined). After the first clear, we will determine how to add it to the rotation. It's possible that CoS will be added to Monday nights, after finishing heroic BoD or before clearing normal.
Mythic CoS will likely be handled by Jibbles, who organized his "Gob Squad" runs of Champions early on. We're not looking to add Mythic CoS to our normal Mythic BoD time slot. As Jibbles' runs are unaffiliated with the official Ministry of Defense Mythic runs, you'll have to contact him if it's something you're interested in.