Mythic Night 1
Champions of the Light
Most people on the Mythic team have already seen and/or killed Grong as a result of Jibbles's Gob Squad runs on Sundays. That said, a number of new people were with us for the kill, and there were only 3 deaths. No Angelic Renewal casts got off, and Divine Mallet damage was comfortably low. That said, Atesies and Coldryder were (I believe) the ones with new Champion kills. We forgot to take a picture. Whoops!
Grong
Grong was fun, but challenging. Everyone we spoke to suggested it was a 5-healer minimum. But since we hate listening to directions and hate the easy route we stuck with 4. (This also means we either hate or love our healers. Use your own discretion.)
We had a few problems. Initially, our second orb holder kept dying because he wasn't receiving enough direct heals. We assigned a specific healer to watch him during tough spots, which solved that issue wonderfully. Another problem was syncing when to use the item to cancel Throw while also draining his tantrum as low as possible. A third was part of the common Heroic issue: people not running out far enough with Throw, while also remaining stationary long enough for the tank to land and not be horrified. We improved communication as the fight continued. Myself and Kamahl (orb holders) got better about recognizing when we would need externals (without memeing BIG HEALZ); tanks got better at recognizing when they would be in trouble during Throw; the group coordinated interrupts smooth like butter.
In the end, we only needed 13 pulls for the kill.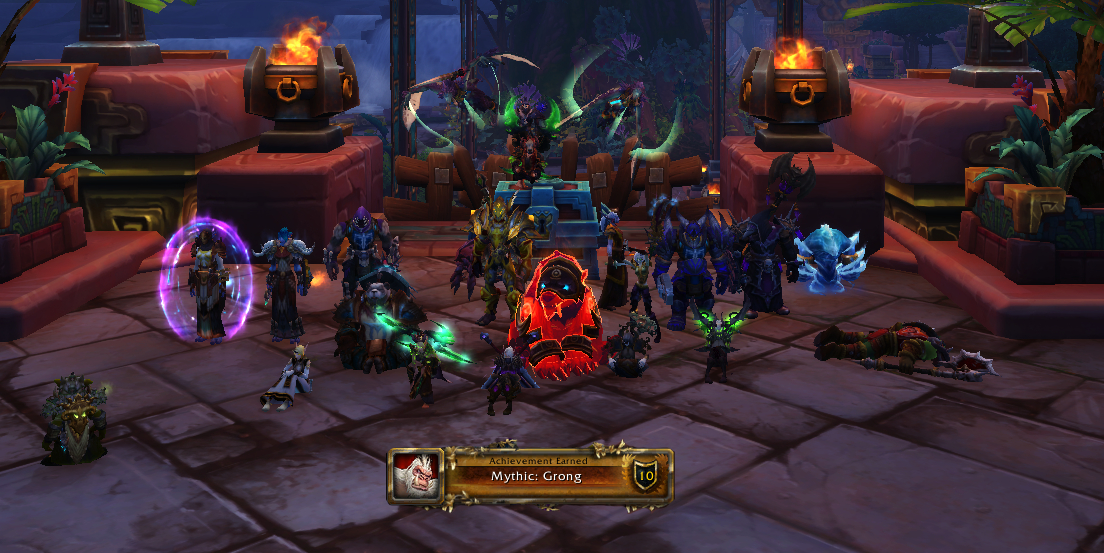 Jadefire Masters
After Grong, Jadefire felt…easy, really. The hardest part of Jadefire is staying alive during multi-sided strike. However, once it was pointed out that the pattern of colors always remained the same (BLUE GREEN RED GREEN BLUE) and I threw together a quick Weakaura to show the color order, most people were able to survive the transition. There were still problems, of course – it's mythic! We initially killed one explosive orb to start, baited magma traps, then moved on to the second explosive orb. Unfortunately, there was simply too much damage and bad timing with the third explosive, multi-sided strike, and the transitional phase. We eventually evened out timing, but still only managed to just down Mestrah twice – once with Manceroy around 30%, and later, with 19 total people, Manceroy around 18%.
Mythic Night 2
We had a rough start to Jadefire as new people joined us for the night and had to re/learn how to do multi-sided strike. However, we overall had better damage to orbs and got a new strat: we burn both the first two explosives, THEN bait magma traps, then kill the third explosive. By that time the third explosive was either dead or close to it before the transition happens.
We had 14 pulls total between both nights for the kill.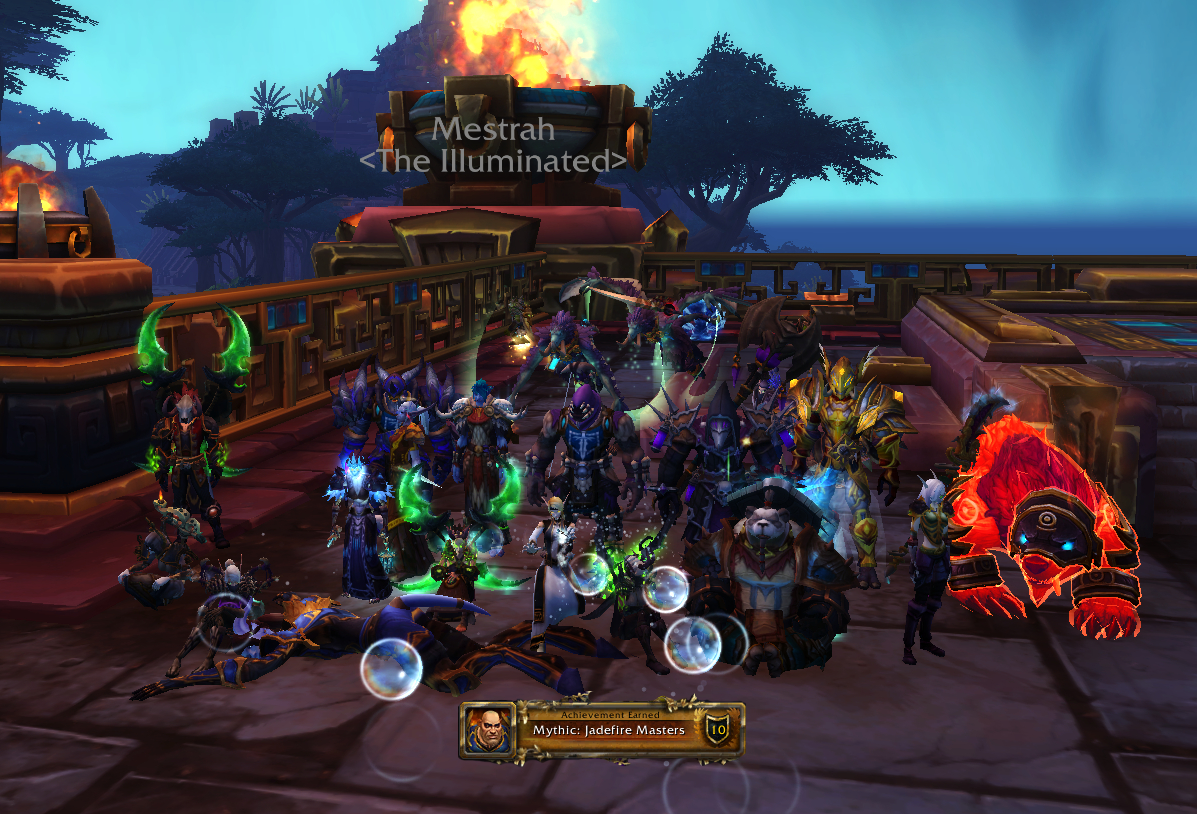 Opulence
Opulence will be our first real problem and the first boss we spend a lot of time tinkering and restrategizing on. It's likely that we will swap healers around going into this week, as certain specs are better at dealing specific types of damage / situations. We'll also be reinforcing a useful graphic that we pulled from <Am I Muted>'s discord, which will help with the lightning orb drop points significantly.
We also don't want anyone running 3 stacks of Treacherous Covenant on Opulence or onwards until we have them downed a few times. The extra damage taken and loss of DPS, especially in poison room / dot situations, is enormous.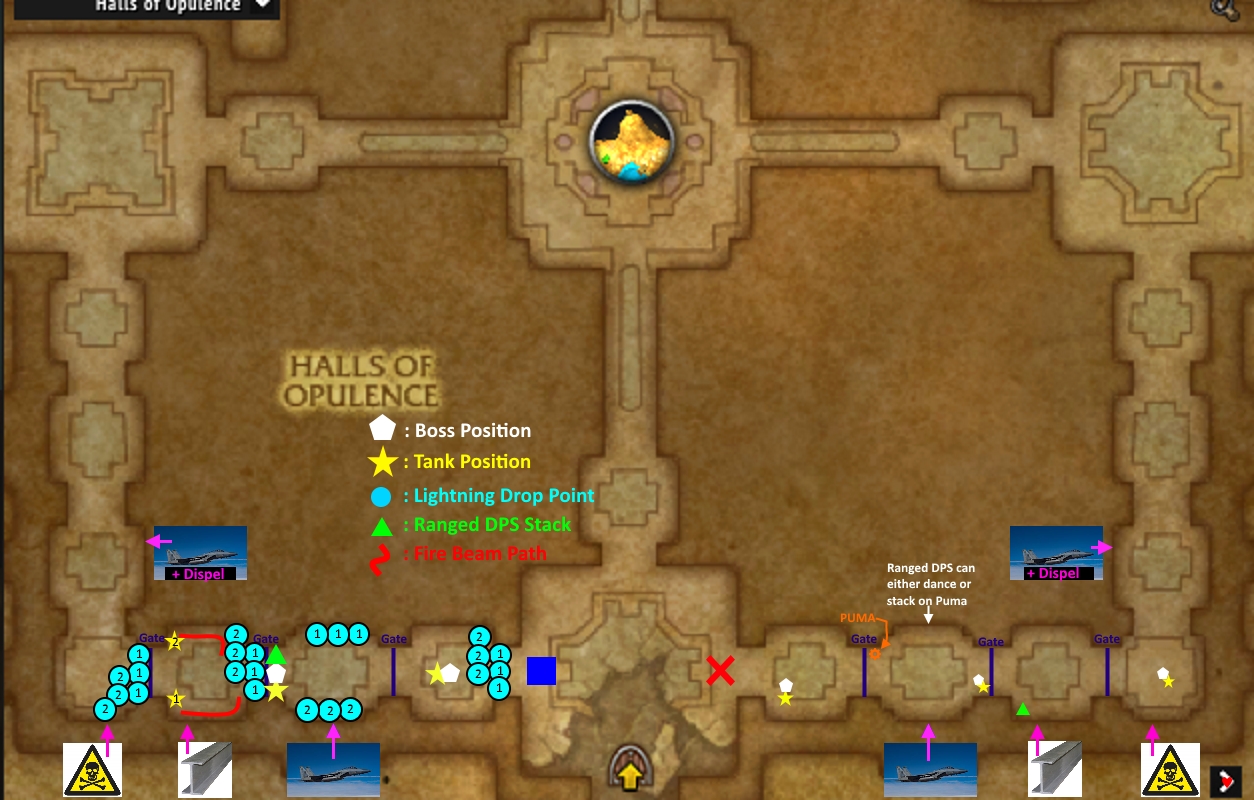 Downing Jadefire put us at #7 on the server. In order to gain ranks, we have to defeat Opulence, Conclave, AND Rastakhan.
Heroic and Normal
I was not present for the Saturday Heroic run, but it looks like everything went well and the run was slightly over 2 hours. In the future, we may decide to do either 2 or 3 hour runs, depending on what people feel like. We may also save lockouts from the previous weeks to try to push AOTC for those that need it. We will try to announce this ahead of time.
Monday we originally planned to concurrently run heroic and normal. In the end we opted to run only normal, as a number of people who were originally going to do heroic either could not make it or didn't feel well enough. In true alt-night fashion, we 1-shot every boss including Jaina, and came in at just over 2 hours. This is an excellent return to form and we know it boosted some spirits. It was nice to see people able to gear alts and run characters they haven't been able to during progression runs.
Saturday logs
Monday logs: 1, 2, 3
Loot Rules
In the face of a Mythic team and the return of alt nights, we've tweaked the loot roll rules for alt nights and clarified what to do with loot we don't need.
Check out the updates to Loot rolls.
Mythic Team
After much deliberation amongst one another and a vote on time slots, the Warlords chose Thursday and Friday for Mythic progression, replacing Black Team raid times.
The following individuals are part of the Mythic roster:
TANK:
Telann
Rip
HEALERS:
Corignis
Phallamore
Liv
Ubernuts
DPS:
Zextol
Lillithh
Quetzie
Kamahl
Foxxie
Harmesi
Fokolamagexd
Lineda
Niraffe
Donkay
Demonestra (transitioning to Houndmaster)
Grimmbrew
Jibbles
Cameltotem
BACKUP/FLEX:
Coldryder
Urostek
Atesies
Bulborbish
Bellelina
Shaynanigans
These individuals were chosen based not only on the numbers performance of their main spec, but also on mechanics, listening to directions, flexibility to other roles / classes, communication, availability for times, and most importantly, attitude.
This is NOT a permanent roster. If you think you were unfairly excluded (example: maybe you can make the times and we didn't think you were able), please feel free to reach out to us. If you are on the roster but wind up benched because of underperformance or attendance issues, please don't take it personally. We'll work with you to show where you can improve as best we can.
If you'd like to try out for the Mythic roster but haven't raided with us before, please get ahold of a Warlord. We'll run you through Heroic and M+ to evaluate your performance and where you might best fit on the team. Assuming you're approved, you'd start as a fill / bench before being placed on the main roster.
We're looking to have fun but also be successful. If you think you can provide a class / role / functionality we're missing, please reach out. We're going to work hard in the coming weeks to gear people's alts / off specs in M+ and heroic / normal raids, practice rotation, provide WAs, etc.
That said, we're still a casual guild. Nobody expects Cutting Edge, and we're not looking to recruit hardcore mythic raiders to replace the friends we've been playing with for months or years. When we reach a point where the best of our best can no longer proceed, we'll likely halt progression to simply farm lower bosses or do other fun activities as a group, catch up AOTCs, etc.
If the stress of Mythic becomes too much and you stop having fun, there is no shame in sitting out. We chose the above individuals because we think they can take the stress of Mythic raiding, but this is a game and everyone should enjoy themselves. If you find it's not what you expected, don't feel that you have to keep coming for our benefit. We'd rather everyone have fun, and we can find someone to fill your slot in the future.
Current Teams / Names / Designations
At some point I need to update the Raid Team Roster page. I can separate the Mythic group out from the rest of the Vanguards; move the Mythic team to Black team and move everyone else to Red; keep Red and Black roster the same but add a separate Mythic roster; combine our (incredibly large) roster into 1 listing; give the Mythic team a brand-new designation; or any other number of things. If anyone has suggestions, please get ahold of me. Otherwise I will use my best judgement, and then nobody is allowed to bitch about what I choose :^)