Another new feature for the website this week, and one I've been wanting to get going for a while.
We now have an Events Calendar!
Over on the Events Calendar page, you'll see a nice, big calendar of all events that the Ministry of Defense currently has planned. Because this calendar has more capabilities than the in-game calendar, it may end up being updated more often (instead of only the event creator being able to edit an event, any Site Admin can edit them).
The calendar is color-coded at a glance for your convenience. All raids are hues of red, with different difficulties being different shades. Sunday Funday (and potentially future fun / silly events) are blue, Keystones are green, and PvP is orange. You can hover over an event to see the time, the organizer (if one exists), and a brief description of the event. The current date has a yellow outline around it, and in general I tried to get it to resemble the in-game calendar while still matching the rest of the site theme.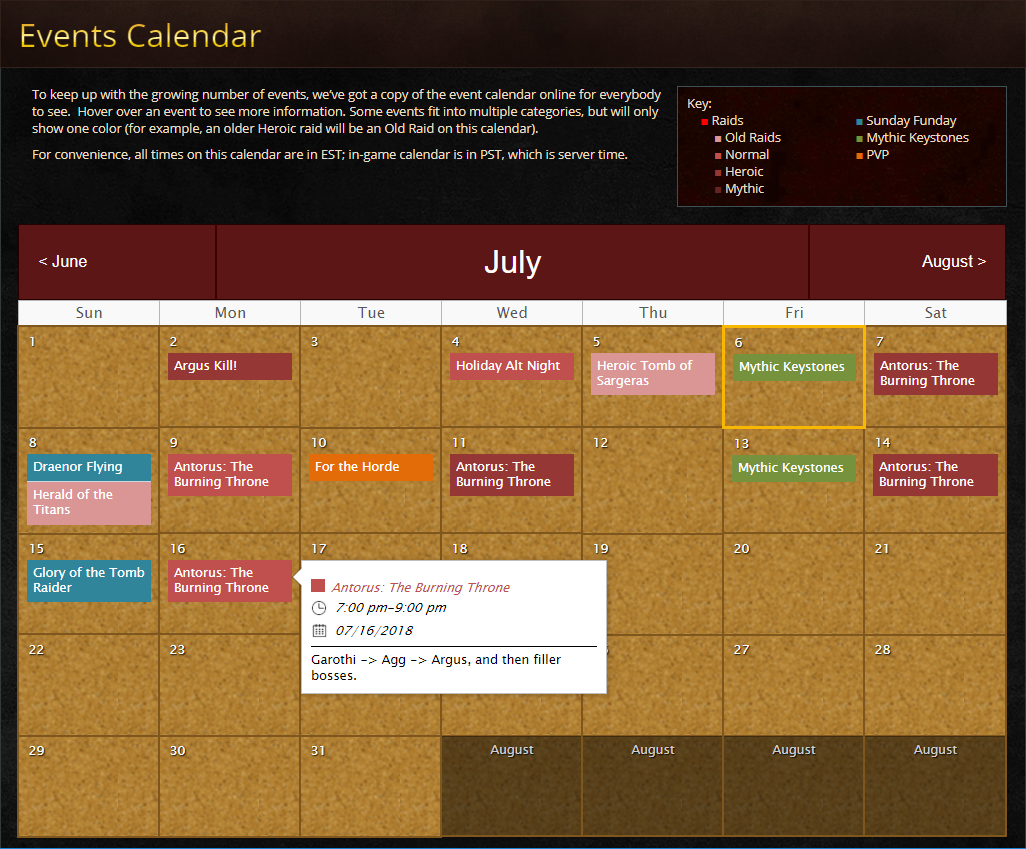 You'll also see events in two other places on the website. The first place you'll see events is on the homepage – prominently displaying any day's events beneath the discord and above our raid progress. Click the arrow in the bottom corner to expand and read more info about a particular event, including seeing who is organizing it (so you can contact them if you have questions!). You can also scroll between days to see what you can look forward to in the next few days.
You'll also see a small calendar on the Member Portal page. It's replaced the text on that page referring to event times, since we're always adding new events anyway. Days with events are given small, colored dots, depending on the category of the event. Click the day to expand information about the events beneath the calendar.
I'm going to continue tweaking the calendar over the next week to improve readability and performance. I'll also be investigating ways of seeing only related events (all raids, for example) or seeing events run by specific organizers.
I continue to try to push out quality of life changes and add new, useful, and fun features to the website for the guild. If you have an idea or a suggestion, fill out the Feedback form and let me know! Is something broken? Submit a Bug Report!