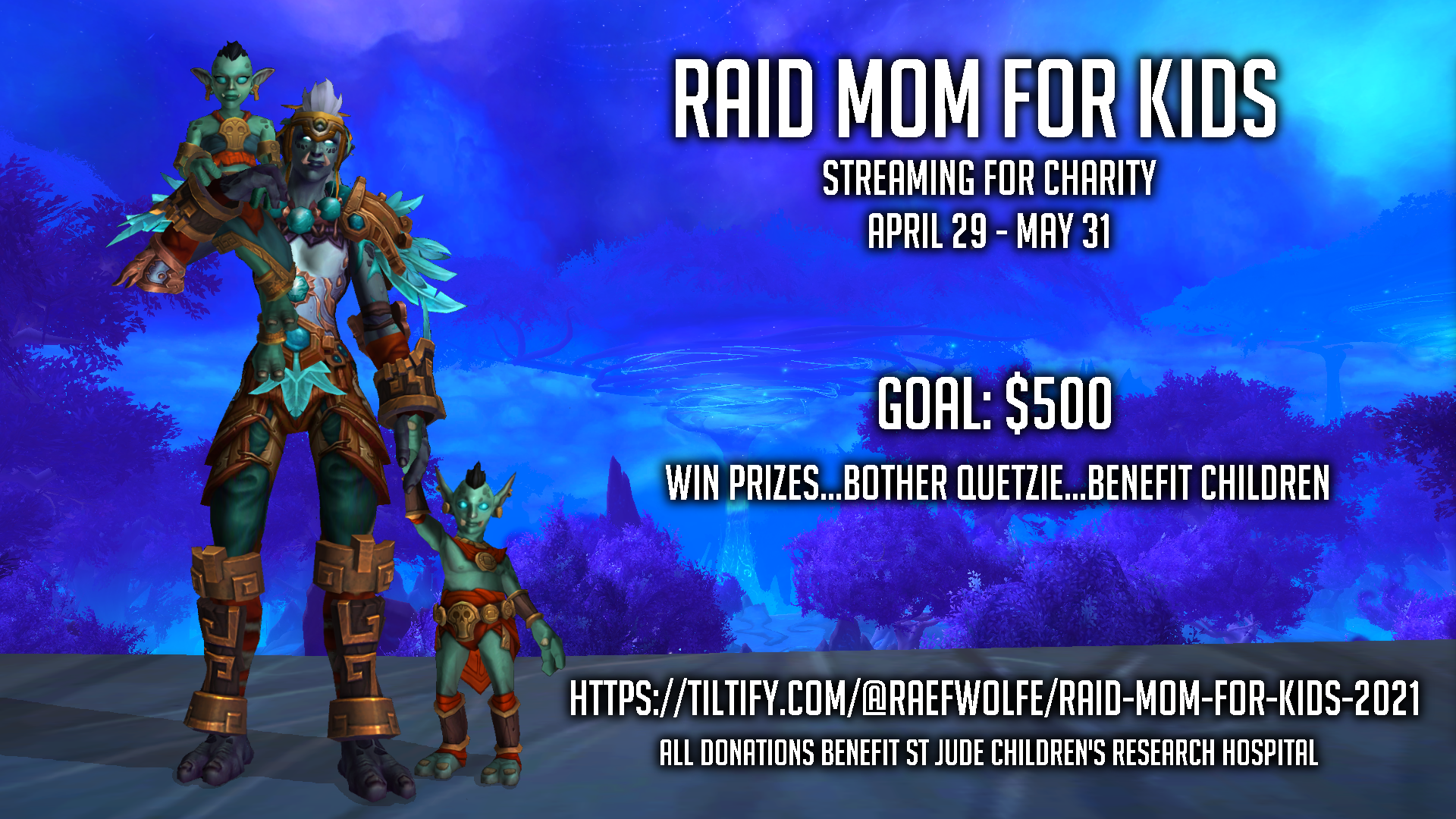 It's that time of year!
For the last several years, I (Quetzie) have been doing charity streams to benefit various causes. I started in 2019 with St. Jude Children's Research Hospital, later raised money for a MoD family in need that fall, and last year donated $500 to various COVID-19 PPE causes. This year I return again and am looking to raise $500 to donate St. Jude Children's Research Hospital with their yearly PLAY LIVE campaign.
To up the ante for my fundraising goal, I am going to be doing a number of incentives to encourage donations. Some of these donations benefit you, while some of these donations just harass me. You'll have to decide which options suit you best.
Not sure what St. Jude's is all about? Scroll to the bottom of the post for further details about the amazing things they do for sick children.
Incentives
World of Warcraft:
$1: $50 Battlenet Balance Gift Card Raffle
Every dollar in every tier equals one ticket to win $50 Blizzard Bux Balance. I will be totaling up your dollars at the end of the month and rolling the results on stream!
$10: Bloodlust Song Choice
Those familiar with my stream will recognize DEJA VU! playing when Bloodlust activates. With this selection, you choose my Bloodlust song! Song choice will remain for, at minimum, 2 full mythic raid nights and 1 weekend raid day. Song clip will last for approx 45 seconds, so choose well! (Note: No explicit lyrics. This is for CHILDREN.)
$25: Make Quetzie Meme
The Cluckening? Mighty Morphin Zando Ranger? A different meme of your choice (Quetzie will make it happen)? Make Quetzie play with specific sounds, weakauras, and in-game shenanigans (provided they do not interfere with mythic progression). You input $25, Quetzie will work with you to output a fresh meme.
Top Donor Reward: Custom MoD Hoodie!
The highest donator will receive a custom MoD hoodie with their character name & MoD logo (hoodie can be substituted for t-shirt etc). If you donate multiple times throughout the month, Quetz will tally those up at the end!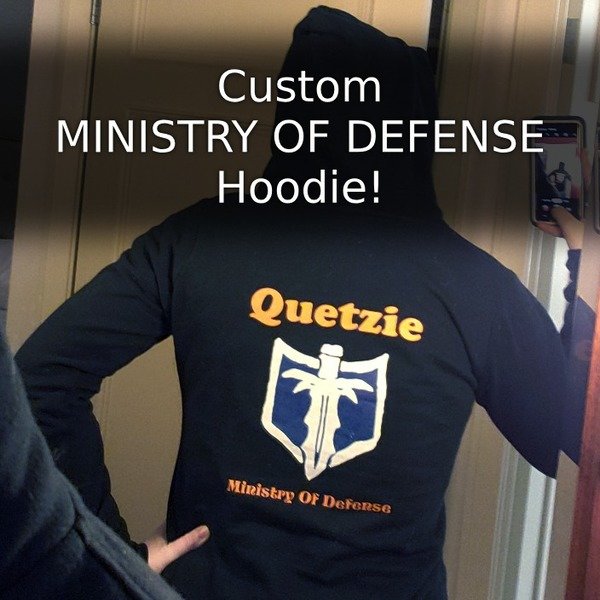 Dungeons & Dragons:
$5 Be an NPC!
Quetzie will craft or rework an NPC of your choice to use in the 1-shots, based on your WoW character or something totally invented by you! Want a Kenku merchant? You got it. Grumpy, bossy Druid named Incogtreeto? Will do! Quetzie will replace characters in existing stories or invent new ones to suit the donator's choice and the game the group plays.

$15 Play in D&D 1-shot (10 slots, 2 games)
The worst part about getting a group together is usually finding a DM. Put in $15 and you have one! Quetzie will DM two D&D 5e 1-shots on either a Saturday or a Sunday of the group's choice. Any character, UA, WOTC supplements, etc allowed. Campaign will be in roll20 with maps, sounds, music, lighting, and the rest of the works. NEWCOMERS AND ROOKIES WELCOME!
Milestones:
$50 Milestone: Quetzie will heal Normal Castle Nathria
$100 Milestone: Quetzie will tank Normal Castle Nathria (caveat: maybe not Sire)
$200 Milestone: Quetzie will heal Heroic Castle Nathria
$300 Milestone: Quetzie will tank Heroic Castle Nathria (caveat: probably not Sire)
$400 Milestone: Quetzie will feral Normal Castle Nathria
$500 Milestone: Quetzie will level & play in Castle Nathria whatever class & spec the donators choose. Everyone who donates gets a vote, even $1 donators!
If I raise more? Uh. I'll figure it out.
About St. Jude Children's Research Hospital
Treatments developed at 

St. Jude

 have helped push the overall survival rate for childhood cancer from 20% when the hospital opened in 1962 to more than 80% today
Families never receive a bill from 

St. Jude

 for treatment, travel, housing or food
82 cents of every dollar received from donations, research grants, insurance recoveries and investment returns goes to support the current and future needs of 

St. Jude

St. Jude

 treats about 8,500 patients each year. Most patients stay in one of four housing facilities specifically designed and managed for families of children with cancer and other diseases. Construction of a fourth housing facility began in 2018.
St. Jude has an onsite school allows patients to keep up with their school program back home.
More than 75% of St Jude's operating cost come from donors
More information about St. Jude
Latest St. Jude Children's Research Hospital expansion plan
St. Jude is starting its "largest strategic expansion in its nearly 60-year history".
"This newest six-year plan focuses on the expansion of patient care and clinical and laboratory-based research related to pediatric catastrophic diseases, including work in cancer, blood disorders, neurological and infectious diseases."
Highlights:
Cancers with the Lowest Survival Rates. Under the new plan, St. Jude will increase investment into uncovering why cancers arise, spread and resist treatment. The number of patients on St. Jude–led protocols may grow as much as 30 percent.
Quality of Life. St. Jude has led the way in developing less-toxic treatments that reduce the risk of devastating and long-lasting side effects from chemotherapy and radiation, but there's still tremendous progress to be made.
Development of a multimillion-dollar Pediatric Cancer Global Drug Access Program
Expansion of educational programs to train the workforce needed to treat childhood cancer worldwide.
Creation of seven international operational hubs
More than $1 billion will be invested to expand research in nonmalignant diseases.
About St. Jude PLAY LIVE
PLAY LIVE has raised over $35,000,000 for St. Jude over several years.
Basic rules: No sexually explicit or bigoted language or visuals; No playing while intoxicated; No illegal drugs or paraphernalia. Playing content that is deemed objectionable will result in your account being removed from the program. Play something that you'd be comfortable playing in front of St. Jude patients and our families.
ALL money donated goes directly to St. Jude Children's Research Hospital.
Streamers who raise a certain amount of funds will receive prizes based on how much they raised; $100 nets you a free PLAY LIVE t-shirt, while $5000 or more gets you a keyboard with custom keycaps!
More information about St. Jude PLAY LIVE
Thanks
Thanks to anyone who shares the link, watches the stream, and who donates (or has already donated!).