For those who haven't heard, Ministry of Defense downed Heroic G'huun last Friday.  It took us less than two months to get through heroic – a first for the guild. The same team also downed Mythic Taloc, which is our first Mythic kill while a tier is still active. (More information on the future of Mythic raiding will come later!) Needless to say, the guild leadership is incredibly proud of all the hard work and dedication our raiders have put in.
Mount Raffle
As Urostek mentioned, those who were present for the kill were entered into a raffle for an in-store mount. Initially Plutonic won, but he passed, and the prize went to Tusker. Congrats! Tusker chose the Grinning Reaver: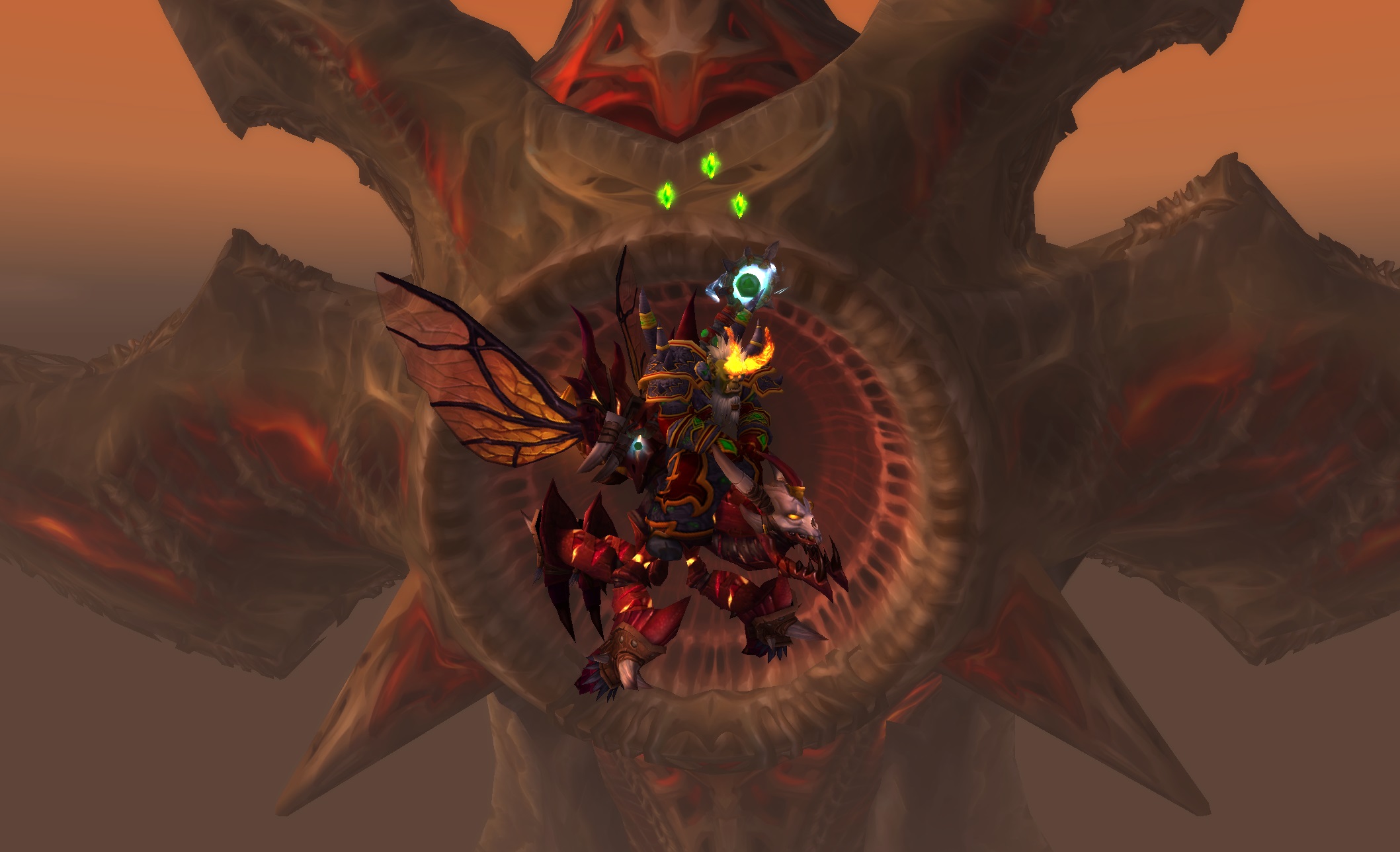 We'd like to acknowledge everyone who was present on our G'huun runs, whether they were practice runs or in on the kill (marked with *):
Tanks: Telann *, Ripblade*
DPS: Bighoss, Urostek*, Cynna, Ibrokewind, Lineda*, Plutonic* / Avarkus, Kamáhl*, Psychoshift, Quetzie*, Nighteld, Orektarg*, Nekoluna, Judäsprïest, Harmesi*, Foxxiê*, Jibbles*, Sheeked / Sheekey, Tusker*, Zextol*, Wendal*
Healers: Harvesting, Miatreeleafa*, Treeson*, Rwandarousey*, Bellelina*, Corignis*, Grimmshock*
10,000 Gold Raffle
As a thank-you for those who ran and practiced with us but who were not in on the kill, I ran a separate 10,000 gold raffle which excluded everyone who was present for the kill.
Ibrokewind (aka Dotsmoredots or Furrybuddy) won the "sorry you missed it" raffle.
Everyone on our team is an important contributor to our success. Whether you miss a boss kill because of real life circumstances or because you've been temporarily benched, we still value your contributions. We are a team! And of course, we fully expect that all of you who missed our first kill will get AOTC with us in the future anyway!
Potential Raiders
If you are looking to get into raiding, now is an excellent time.
This Saturday we had an almost entirely full guild run of LFR (23/25 were MoD). Guild LFR is a good time for those who have never raided, who want to try a new spec, or who simply want to hang out in Discord with us goons (: If you're tired of wiping on Zul trash or MOTHER transitions, Guild LFR is the place for you! Guild LFR starts at 2pm PST / 5pm EST, and runs until we finish all 3 wings (usually 1.5-2 hours).
We run Normal Uldir "alt night" every Monday, which currently has an ilvl requirement of 340 (but honestly, if you're around 335, I won't tell anyone…and since I handle invites, it'll be our little secret!). We skip normal Taloc and MOTHER, which gives us just enough time to finish out at G'huun before it's time to call it for the night. Alt Night starts at 4pm PST / 7pm EST, and lasts for 2 hours.
Fridays will continue to be Heroic. Heroic has an ilvl requirement of 355. We may end up skipping Taloc and MOTHER to give us more loot from bosses we have seen less of (Zul, Mythrax, G'huun). Currently, the plan is for Fridays to act as a way to buff up our "undergeared" Heroic raiders, who are stuck in that 360-365 rut that is hard to climb out of. (Eventually, monday alt night may become Heroic night, as we will be able to blitz though and quickly "carry" anyone who needs gear up to a Heroic level regardless of their current gear.) Heroic starts at 4pm PST / 7pm EST, and lasts for 3 hours.
Thursdays are Mythic. As Mythic raids are capped at 20 people, we will have to be pretty picky about the Thursday team – for a few weeks, anyway. However, we currently have 30 Vanguards. We'd LOVE to fill out our roster with two full Mythic raiding teams, which means 40+ people. We do NOT plan on running "A Team" and "B Team" mythic comps. No one on the MoD raiding roster should feel that they got "stuck" on the "unsuccessful" team, because both teams will be successful. Stay tuned in the next day or so for more info on what this means for everyone who has an interest in Mythic raiding!
If you haven't raided before, you will need to read the Rules and Regulations (required for normal and heroic, not LFR). I also suggest reading the Pre-Season FAQ from our pre-uldir launch meeting, though some of that post is now outdated.