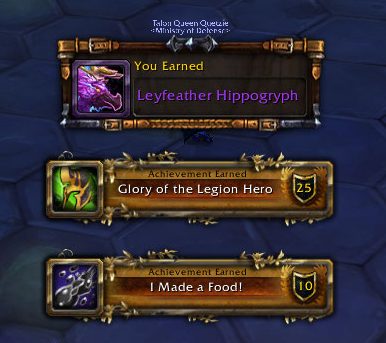 Gotta love it when guildies work together!
Over the past few weeks, some of our more prominent guild members – Ganelon, Pewpewbeast, Quetzie, Telanlan, and Lineda – have been hard at work to get the achievements necessary for Glory of the Legion Hero. Three of the group finished it on the 16th with I Made a Food! – an annoyance to get, as it requires the correct Violet Hold boss to spawn. The other two got it the next day with an RNG-blessed completion of Dropping some Eaves.
The most fun was probably Poor Unfortunate Souls – a long, complex, timed achievement that spans multiple dungeons and rewards a minipet in addition to the achievement. Most frustrating? Probably You Used to Scrawl Me in Your Fel Tome because of its RNG nature, though A Spectre, Illuminated was also frustrating since it kept bugging out. Stay Salty required the most coordination, whereas I Got What You Mead had to be the simplest of all.
In addition to the Leyfeather Hippogryph, completing this achievement unlocks the 4th tint of your Valorous Artifact Weapon Appearance.
Want your own achievement, mount, and pretty weapon color? You can always ask for tips in the Discord!