BEFORE YOU DO ANYTHING
Go to your "World of Warcraft -> Interface" folder. Add a new folder called "icons". (you should see another folder called "addons" while you're there).
Download the .rar from this link:
https://drive.google.com/open?id=1E4XHZE1I7yPOFI1q5ukLCcCVTSRxOwyS
Export the icons (blp files) into your newly created "icons" folder.
Download Weakauras
Download Nameplate Auras
Pawcett's Edited
This weakaura tracks your Bleeds, Savage Roar, Moonfire (if talented), energy bar, combo points, and predatory swiftness cooldowns. It also highlights if certain buffs were active during your bleed casts, but that's less important because of another weakaura we're going to be adding.
When your bleeds on a target get low, the outline will turn red.
Credit goes to Pawcett from the Druid Discord server for setting this up in Pandaria/WoD. (I made a few edits to this to get it to display nicely alongside other WAs and addons.)
Bleed Strength
This WeakAura tracks the strength of your bleeds on a target. Green numbers mean the bleed on a target is weaker than the one you can currently cast. Red numbers on a target mean the bleed on a target is stronger than what you can currently cast. The exception is Rip; Rip assumes you're casting at 5 combo points, so don't be fooled by green numbers if you're not at 5 combo points for Rip.
Credit to MoonBunnie from the Druid Discord server for setting this up to work alongside Pawcett's WA.
Procs and Buffs
This WeakAura tracks Tiger's Fury, Bloodlust, Potion of Prolonged Power, and so much more. You can also add trinkets and legendaries you have – I'll teach you how!
Nameplate Auras
Nameplate Auras are a little different to set up htat WeakAuras. WA has import strings, not Nauras is all manual. FOrtunately, it's not difficult. I'll teach you how to add "Nauras" so you can see what enemies have bleeds on them that are about to run out!
Bringing it all together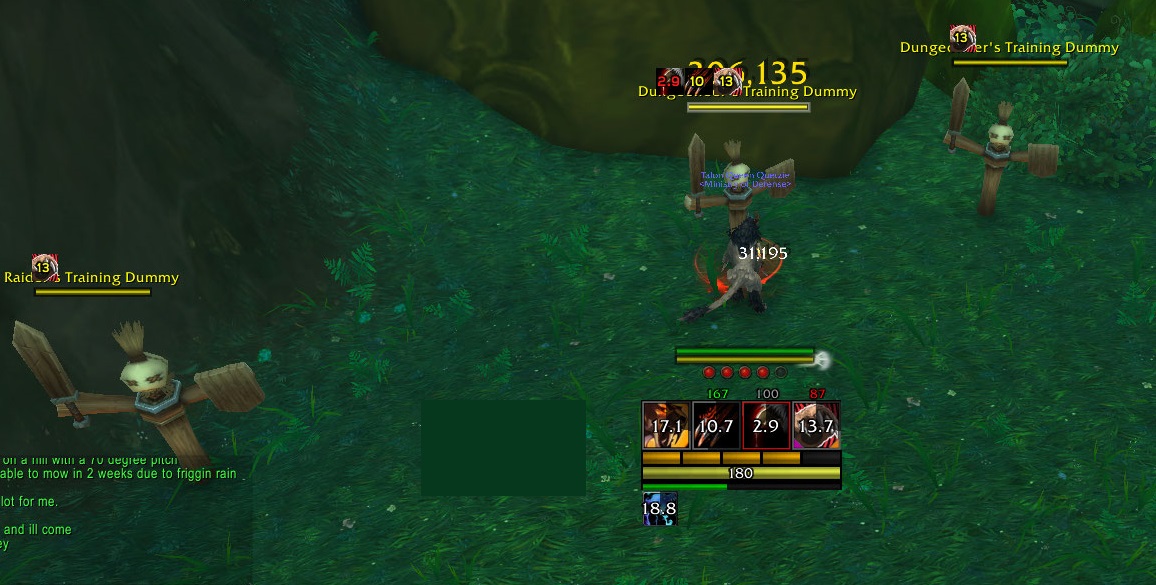 You can use some or all of the aforementioned bits and bobs to get a UI that looks a bit like this. Snazzy!